Subject:

LIFTGATE HARD TO LATCH IN COLD TEMPERATURES BELOW FREEZING

Bulletin No: 09-044/16
Last Issued: 07/14/2016
BULLETIN NOTE
This bulletin supersedes the previously issued bulletin(s) listed below. The changes are noted below in Red beside the change bars.
| | |
| --- | --- |
| Previously Issued TSBs: | Date(s) Issued |
| 09-020/15 | 05/25/16 |
APPLICABLE MODEL(S)/VINS
2014-15 Mazda3 vehicles (Japan built) with VINs JM1BM******124519 – 262282 (produced between October 1, 2013 and February 28, 2015)
2014-16 Mazda3 vehicles (Mexico built) with VINs 3MZBM******100001 – 249417 (produced between December 1, 2013 and August 12, 2015)
2014-16 CX-5 vehicles with VINs JM3KE******398378 – 639309 (produced between October 1, 2013 and February 28, 2015)
DESCRIPTION
Some vehicles may exhibit a condition in extremely cold temperatures (below freezing) where the hatchback will not latch (half latch) when closing. This is caused by the stopper rubber, a component of the liftgate latch and lock actuator (A), hardening when the temperature drops below freezing. The stopper rubber has now been improved to eliminate this concern.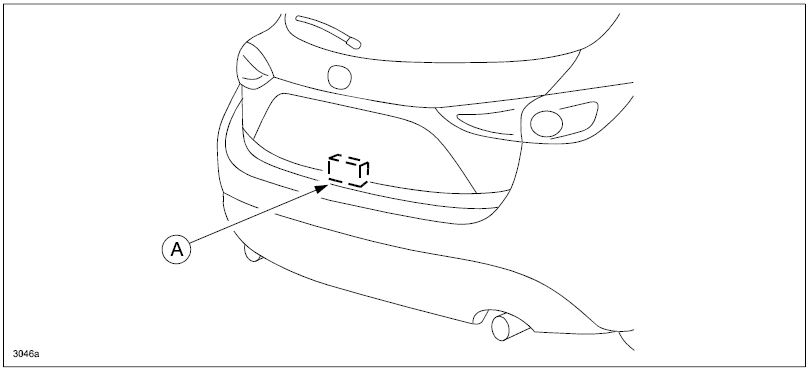 Customers having this concern should have their vehicle repaired using the following repair procedure.
REPAIR PROCEDURE
Verify customer concern.
Replace the liftgate latch and lock actuator with a modified one. Refer to MS3 online instructions or Workshop Manual section 09-14.
Verify repair.
PART(S) INFORMATION
WARRANTY INFORMATION
NOTE:
This warranty information applies only to verified customer complaints on vehicles eligible for warranty repair.
This repair will be covered under Mazda's New Vehicle Limited Warranty.
Additional diagnostic time cannot be claimed for this repair.
| | |
| --- | --- |
| Warranty Type | A |
| Symptom Code | 42 |
| Damage Code | 9B |
| Part Number Main Cause | G33M-62-310* / BJT6-62-310 |
|  Qty. | 1 |
| Operation Number / Labor Hours: | XXL4GXRX / 0.3 Hrs. |
---
09-044/16
https://www.nhtsa.gov/recalls?nhtsaId=10091813
https://www.nhtsa.gov/recalls?nhtsaId=10085443
https://static.nhtsa.gov/odi/tsbs/2016/SB-10085443-6903.pdf
---
09-020/15
05/25/2015
https://www.nhtsa.gov/recalls?nhtsaId=10105437
https://static.nhtsa.gov/odi/tsbs/2015/SB-10105437-2532.pdf
---
Bestseller No. 1
WD-40 Specialist Dirt & Dust Resistant Dry Lube PTFE Spray with SMART STRAW SPRAYS 2 WAYS, 10 OZ
Keep your equipment running smoothly with long-lasting corrosion protection. This Dry Lube PTFE Spray reduces friction and wear on blades and bits, door and window tracks, slides, conveyor belts, rollers, hinges, power tools, and equipment
The WD-40 Specialist line is designed with industrial-strength quality and extreme penetration for your hard to solve issues
Ideal for reducing friction and wear on multiple surfaces. It won't attract dirt or dust, and is safe for temperatures from -50° F to 500° F.
This specific formula is safe to use on wood, paper, fabrics, leather, metal, and most plastics (except clear polycarbonate and polystyrene). It is 50-state VOC compliant and the Smart Straw Technology allows for ultimate precision
Bestseller No. 2
Bestseller No. 3
DuPont Teflon Non-Stick Dry-Film Lubricant, 14-Ounce
Unique 100% dry-film Teflon coating and lubricant
Clean, long-lasting micro-thin, dirt-resistant coating effective from -100F to +500F
Uses proprietary resin-bonding technology for tight tolerance, metal-on-metal applications
Creates a thin, dirt-repelling, chemical-resistant coating
Safe for all surfaces does not contain silicone
Bestseller No. 4
Sale
Bestseller No. 5
Bestseller No. 6
Sale
Bestseller No. 7
Sale
Bestseller No. 8
Bestseller No. 9
WD-40 Bike, All Conditions Lube, Bike Cleaner, Degreaser, Dry Lube, Wet Lube
Ride smooth when the dust flies with this dry lube, specifically formulated for dry & dusty conditions. Polymers in the Dry Lube formula quickly form a dry film to protect your chain and repel dirt and dust
Prevents friction damage and helps extend bike chain life. The no-wax formula will not build up inside chain links and drivetrain, providing chains you can trust in the driest conditions
They say a clean bike is a fast bike. WD-40 BIKE has something to help every type of bike and rider. From beginners to pro athletes, WD-40 BIKE products are there to keep your gears clean and your wheels spinning
WD-40 BIKE products have undergone extensive testing at the hands of internal and 3rd party scientists, bicycle retailers, and professional mechanics. Experience the difference of a professional-grade formula
Community approved. WD-40 BIKE sets up hands-on wash stations at local bike events around the globe. They visit and set up shop while providing riders of all levels an opportunity to engage with each product for essential bike maintenance
Bestseller No. 10
Last update on 2020-05-26 / Affiliate links / Images from Amazon Product Advertising API
Last update on 2020-05-26 / Affiliate links / Images from Amazon Product Advertising API