Title
ALL SKYACTIV MODELS- CHECK ENGINE LIGHT ON WITH DTC P0137
Content
If you encounter a vehicle with DTC P0137 (Circuit Low Input), check the rear harness at the red circled area in the following diagram . If an aftermarket alarm system is installed, the rear harness might have received damage from electro-tap connectors (A) or to the protector tube (B). This damage is not covered under Warranty.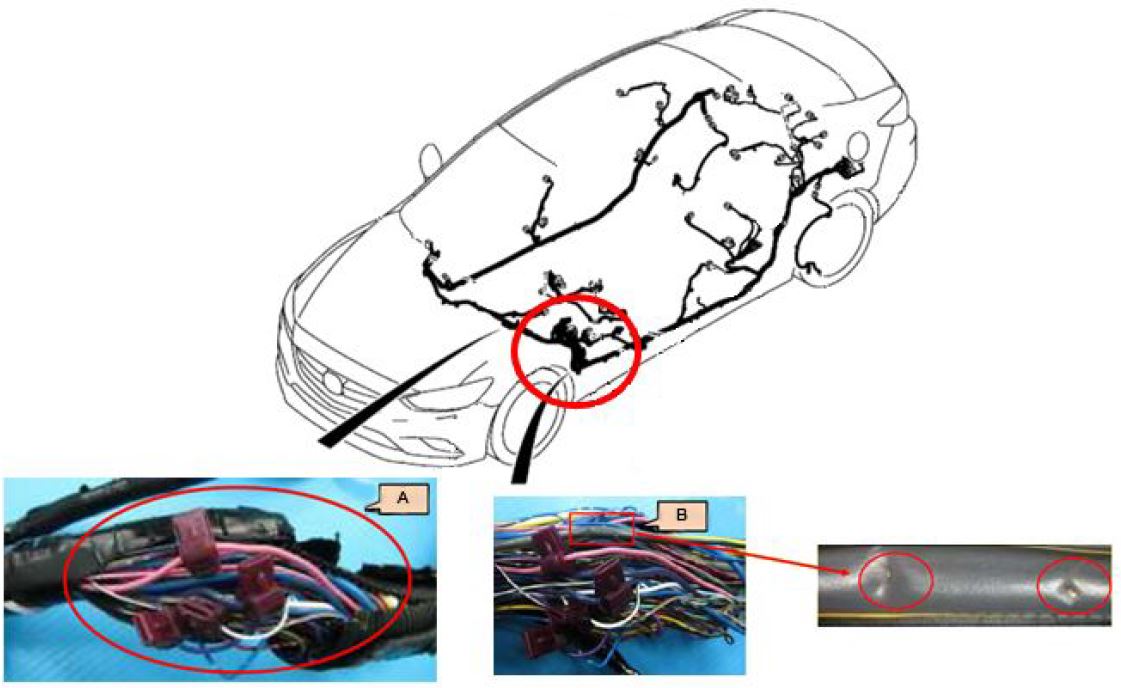 ---
---
SA288
https://www.nhtsa.gov/recalls?nhtsaId=10093366
https://www.nhtsa.gov/recalls?nhtsaId=10086522
https://static.nhtsa.gov/odi/tsbs/2016/SB-10093366-6903.pdf
---
Bestseller No. 1
BlueDriver LSB2 Bluetooth Pro OBDII Scan Tool for iPhone & Android
Read and clear your Check Engine Light and all other vehicle systems. Get your unlimited free vehicle specific Repair Reports, generated from our database of millions of fixes verified by ASE Certified Mechanics
As easy to use as a code reader with all the capabilities of an expensive handheld scan tool, plus the benefits of your smartphone or tablet (free app updates, portability, saving data, interactive graphing of live data)
Officially licensed and certified for Apple and Android devices
The BlueDriver App and BlueDriver Sensor work exclusively with each other to ensure quality
BlueDriver is the Professional OBD2 Diagnostic Scan Tool trusted by mechanics and developed by Professional Engineers in North America
Bestseller No. 2
kungfuren OBD2 Scanner, Universal OBD2 Code Reader Car Automotive Check Engine Light Error Analyzer Auto CAN Vehicle Diagnostic Scan Tool for OBDII Protocol Cars Since 1996
【POWERFUL COMPATIBILITY & COMPACT DESIGN】 Universal OBD2 Scanner works on MOST 1996 US-Based cars SUVs Light Trucks, 2000 EU-Based and Asian cars, vehicles with all OBD2 protocols CAN, ISO9141, J1850 VPW, J1850 PWM, KWP2000. Supports up to 6 languages: English, German, Dutch, Italian, French and Spanish. With a compact size, easy to hold and carry. Please Note: This OBD2 scanner only supports petrol vehicles.
【PRACTICAL & MULTI-FUNCTIONS】 OBD2 code reader features built-in OBD2 DTC lookup library, help you to determine the cause of the engine light, read code, erase code, view freeze frame, I/M ready, vehicle information, data flow, real-time curve, get vehicle speed information, calculate load value, engine coolant temperature, get engine speed. Convenient and practical, great for the car owners.
【EASY TO OPERATE】 No need any battery or charger, this OBD reader gets the power directly from your vehicle through the OBD2 Data Link Connector. Just simply plug in the OBD interface to start diagnosis. There are 6 buttons on OBD2 Scanner: scroll up/down, enter/exit and buttons that quick query VIN vehicle number& the DTC fault code. Very easy to operate.
【ACCURATE & EASY TO READ】 Designed with a large clear LCD display screen, which is with white backlight and contrast adjustment for direct display test results, accurate and easy to read. Even a beginner can use this OSD2 Scanner to read the error code, find out what the problem is and perhaps fix it. Save your money and time.
【COMPACT & PORTABLE】 The handheld and compact design OBDII code readers is portable, Makes it simple-to-use and easy to handle with an anti-skid surface while diagnosing. And the small size means that you will be able to store the tool without encountering any sort of hassle. The OBD2 code reader is equipped with 2.5-feet long cable enables you to sit comfortably running diagnostic test. Please NOTE: The OBD2 is valid only for the engine system, not for airbags, ABS and other systems.
Bestseller No. 3
OTC (3111PRO) Trilingual Scan Tool OBD II, CAN, ABS And Airbag
Compatible with all 1996 and newer Domestic, Asian and European cars and light trucks; OBD II & CAN
Records and plays back live, real time engine data
Component locator provides text descriptions to indicate where components are located on the vehicle
Airbag and ABS coverage for 1996 - 2010 GM, ford, Chrysler and also 1996 - 2009 Toyota, Honda, Hyundai and Nissan vehicles
Dual PID graphing capability.
Bestseller No. 4
Bestseller No. 5
FOXWELL NT510 Car Code Reader for BMW Before 2019 Auto Full-System Diagnostic Scan Tool OBDII Scanner with EPB SAS TPS Oil Service Reset Active Test and Battery Replacement
ALL FUNCTIONS IN YOUR HAND This bmw car obd2 scanner is capable of reading and clearing trouble codes of all major systems of BMW vehicles, including engine, airbag, transmission, ABS, SAS, DISA, DSC, SZL, TPMS, ect. It also can temporarily start and control your vehicle's systems for active testing, provide you with accurate data results about troubleshoot and diagnostic problems.
ADVANCED FEATURES FOR BMW Comes with BMW software, and you can use it directly out of the box. Control service interval reset, brake deactivation, ABS module activation, battery registration, oil light service reset, traction and throttle body adjustment, DPF regeneration, troubleshoot the A/C, CBS condition-based service reset are just a few of special functions this professional code reader provides.
ONE SCANNER - TWO USES As a professional diagnostic scan tool for bmw full systems, Foxwell nt510 bmw code reader can be also used as a universal OBD I/OBD II/EOBD code reader for checking engine light, reading and erasing codes on other brands cars' OBD SYSTEM. Playback and data print are also available. Only one nt510 automotive scanner is enough for car diagnosis.
BE BORN FOR YOU GUYS Ergonomic design and ruggedly built are for both shop and road tests. Whether you own your personal mechanic shop or you are a private owner, you'll fall in love instantly with the classic scanner. Its pocket-size dimensions are perfect for allowing diagnostic tests inside or outside of the car, and the clear menu makes it easy to operate.
ZERO-RISK PURCHASE The bmw scanner is compatible with a wide range of BMW models, from older 1987-1996 cars to 2019 brand new ones, including Mini and Rolls Royce. Online free upgrade to obtain newly added parameters and functionality at your fingertips. One-year product service is offered, and return it whenever you want, why not get one and have a try?
Bestseller No. 6
Bestseller No. 7
LAUNCH CReader HD Plus Heavy Duty Truck Obd2 Diagnostic Reader OBDII Scan Tool CRHD Truck Code Scanner With OBD-II Communication Modes 1-10 and J1587, J1708 and J1939 protocols
【HDOBD+OBDII】 LAUNCH CR-HD professional heavy duty truck scan tool will work on J1587, J1708 and J1939 Protocols trucks. Covers class 4 (14, 001 lbs) through class 8 (33, 000 lbs and over) heavy duty trucks. It does not only work on heavy duty trucks, but also work on 1996 US-Based, 2000 EU-Based and 2005 Asian-based cars, light duty trucks (12V only) and newer OBD II & CAN domestic or import vehicles.
【Multisystem Diagnostics】 This HDOBD truck code reader will read or clear fault codes on engine, transmission, brake, instrument panel, vehicle management, fuel system, cab climate and particulate control unit, show the live data in text and graph.
【Wide Coverage】 For Freightliner, Kenworth, Mack, International, Sterling, Paccar, Peterbilt, Caterpillar, Western Star after 2006, For Mercedez-Benz, MAN, Scania, Volvo, Renault, ERF, Foden, Seddon-Atikinson, Iveco, DAF, Sisu, Steyr, Isuzu, Hino after 2012, and all Cars /min vans / light duty from 1996.
【Fast and Accuracy】 Rapidly communicates to the cars or heavy duty trucks, reads monitor status and identify OBD II communication protocol in 5 seconds. Instantly read and clear error codes, displays the codes definition on the screen, shows data stream and freeze fame, does O2/EVAP/On-board system test.
【Humanized Design】 Applied 2. 8" color LCD with friendly interface, help you more intuitive and better diagnosis. Equipped with 6PIN, 9PIN, and 16PIN diagnostic connectors, which can provide highest quality, most efficient, and most professional diagnostic service.
Sale
Bestseller No. 8
LAUNCH OBD2 Scanner Code Reader CR529 Enhanced Universal Automotive Scan Tool with Full OBDII Function, Turn Off Check Engine Light, Pass Emission Test, Advanced Version of 319
Patented One-Click Smog Checker This obd2 scanner with just one press of a button to run a quick check, you'll see if the car is ready to pass the emission test, without the hassle of driving around endlessly, or continuously coming back to the repair shop for retest. Additionally, we give you a great service package 24-month warranty, and lifetime technical supports.
Check Engine Light Killer This obd2 code reader can clear the trouble codes in seconds. HELP button is specially designed for quick access to commonly tips, it's will displays the error code definition, finds out what caused and result of the check engine light on,then tell you how to fixed.Whether you're a home car owner or an auto mechanic, you can save thousands of dollars on car maintenance, save time and effort on repairs, and dramatically improve your car's lifespan / performance. Also,
Effective Car Status Analyzer The obd2 scanner CR529 gets the full 10 modes of OBDII test as live data, freeze frame data, to get quick & precise test results of your vehicle health status clearly and vividly in graphical way, and I/M Readiness, turn off the annoying Check Engine Light, O2 sensor test and On-board monitor test, which are great for passing the emission test smoothly, etc., via its sharp and vivid 2.8" color screen making any data much easier to read.
Home Necessity OBD2 Scanner Plug & Play, no battery or charger required; Free Lifetime Update, help extend its useful life; DTC LookUp, no research online; Data Record and Replay, check the records related anytime; Classic and Solid design, withstand everyday shocks; 3-Foot-Long Cable for easy to use. Also, a wealth of car information (VIN, CALID and CVN) is retrieved to find out all about your car without hassle for record purposes, car tracking, buying matched parts etc.
Wide Coverage The code reader obd2 scanner can be used regardless of the type of your vehicle, as long as it is OBD2 compliant (European vehicles from 2002, American ones from 1996, and Asian from 2003 and newer): KWP2000, ISO9141, J1850 VPW, J1850 PWM and CAN. Multiple language option is also packed: English, French, Spanish, German, Portuguese, Russian, Japanese.
Bestseller No. 9
Foseal OBD2 Code Reader, OBD 2 Scanner Professional Enhanced Universal Car Automotive Check Engine Light Error Analyzer Auto CAN Vehicle Diagnostic Scan Tool for OBDII Protocol Cars Since 1996
Classic Handhold Design OBD2 Code Reader, plug and play, fast scan and clear trouble codes, very easy to use, even a beginner can use this unit to read the error code.
Check engine light. Run I/M monitor readiness test, Turn off check engine light, View freeze frame data and codes and show definitions, Monitor engine coolant temperature, etc.
Working on most 1996 US-Based cars SUVs,Light Trucks, 2000 EU-Based and Asian cars, vehicles with all OBD2 protocols CAN, ISO9141, J1850 VPW, J1850 PWM, KWP2000.
Built-in a large LCD display (128 x 64 pixel) with white backlight and contrast adjustment, from which you can read test results directly.
Package includes a Foseal handhold OBD Scanner with a 2.5 feet long cable and a friendly user manual; 18 months quality insurance; Any problem, welcome to contact us!
Bestseller No. 10
Creator Code Reader Car Diagnostic Tool C110 V6.0 Multi Tool SRS Airbag ABS OBD OBD2 Automotive Scanner Scan Tools Obdii Reader for BMW
Creator C110 BMW Code Reader V6.0 supports BMW between 2000 to 2013 years.
Function inculde read trouble codes, clear trouble codes, displays live data stream, clear adapation and vehicle infromation.
Supports BMW 1 Series, 3 Series, 5 Series, 6 Series, 7 series, 8 series, X series, Z series and Mini
Add MINI Cooper test function.Software support free update online, official website http://www.szcreator.com/
Read trouble codes, clear trouble codes, displays live data stream, Clear adaptation and vehicle version information.
Last update on 2020-02-24 / Affiliate links / Images from Amazon Product Advertising API
Last update on 2020-02-24 / Affiliate links / Images from Amazon Product Advertising API