Multi-model (Equipped with Rear View monitor)
Rear View Monitor display is blurry
Some customers may complain about a blurry rear view monitor display. This may be caused by an aftermarket accessory device.
Some aftermarket electrical devices (e.g., an accessory cell phone charger) may create excessive electrical noise. The noise may interrupt some of the vehicle electrical systems. Below is an example of an aftermarket cell phone charger that is interrupting the rear view monitor system:
With aftermarket cell phone charger connected to 12V outlet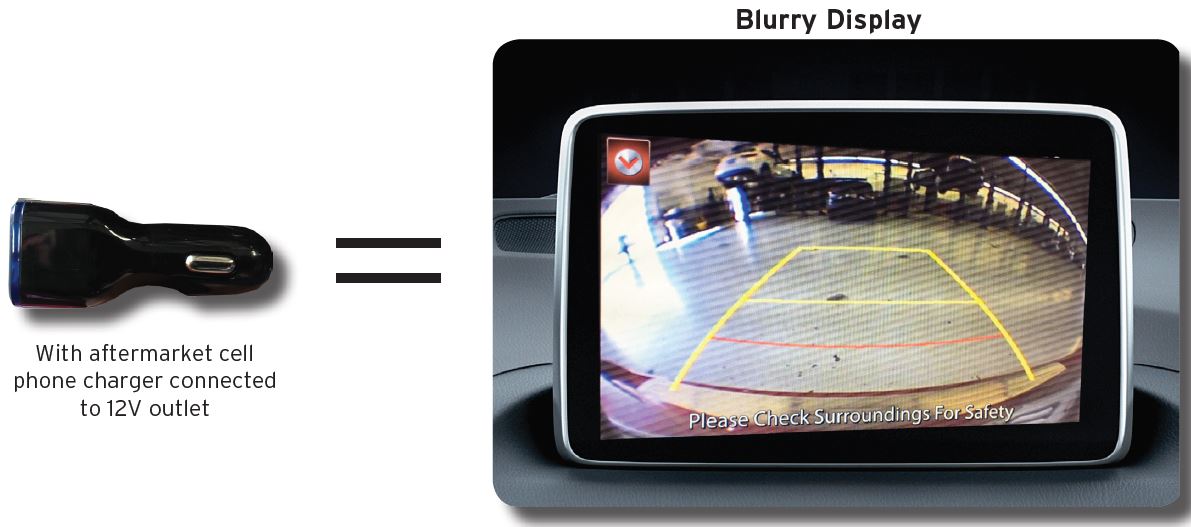 Without aftermarket cell phone charger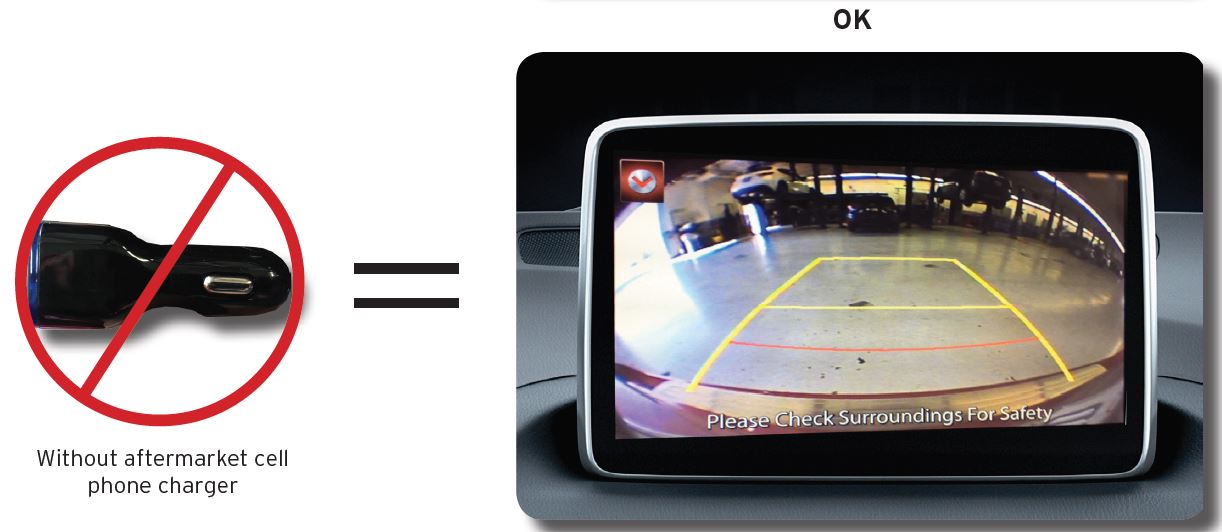 Warranty Compliance Note:
Repairs for this concern are not covered under Mazda's warranty policy. Advise the customer not to use the aftermarket device that is causing the concern.
---
---
MTI1031
https://www.nhtsa.gov/recalls?nhtsaId=10091433
https://static.nhtsa.gov/odi/tsbs/2016/SB-10091433-6903.pdf
---
MTI1031
https://www.nhtsa.gov/recalls?nhtsaId=10091266
https://static.nhtsa.gov/odi/tsbs/2016/MC-10091266-6903.pdf
MC-10091266-6903

---
Bestseller No. 1
HD eRapta ERT01 Backup Camera Rear View License Plate Reverse Camera Universal for Pickup Truck Car SUV 149° Perfect Angle Night Vision IP69 Level Waterproof 3.0 Generation
Excellent license plate wired backup camera: designed for car,Pickup Truck,SUV,Minivan and Sedans. Work well on old cars,new cars or used cars.
Universal rear view camera:Suit for 12-24V DC Power. 26ft RCA video cable. It will work well if you radio,monitor,DVD player or screen has the RCA connector.
Crystal Clear Image Nice Night Vision: Pretty Clear Video,6 Glass Lens, 100% True Color Reproduction, 100% Updated Chip. Vivid Picture helps us to Drive or Reverse with a pleasant Mood. 8 LED lights do a great job to get a nice colorful image in the dark. Excellent parking camera for safe reversing and driving.
Easy to Install:Just need to connect camera's power to reversing light,then connect the camera to your radio screen or monitor by 26ft RCA cable, Complete kits and easy installation save our time.
IP 69 Waterproof Level Reversing cam: Highly Waterproof backup camera kits. The camera is made by high-purity resin,with international standard IP69K waterproof.So you can use it daringly whatever it's rainy/snowy/hot
Bestseller No. 2
Backup Camera Rear View Monitor Kit HD 1080P for Car Truck Minivan Waterproof Night Vision DIY Grid Lines LeeKooLuu LK3
Plug and Play: Reverse camera and monitor are connected directly via a 4-pin cable with a power cord connector.Power it to reverse lights for use when vehicle is in reverse gear Or can be powered by directly connecting to a 12v source fuse box or cigarette lighter/power point/ignition switch for continuous use.
Upgraded High performance IP 69 Waterproof.No need to worry about water inside the camera.Color HD license plate camera with 149 degree viewing angle and 6 White LED Lights provide crystal clear color both at night and day.
DIY Setting:You can adjust the parking line's width,moving Left/Right/Up/Down to make it fits for the real condition.You can also turn it off if you do not want it.The image can be flipped between mirror (rear view) and facing (front view).You can use the camera as rear backup camera or front camera optional.
Vehicle backup cameras with HD 4.3 Inch LCD display monitor equipped with magnetic bracket,You can rotate it 360 degrees,can be mount the monitor on dash or windshield.
Good Service:Installation instructions are included.Back-up camera system has a 2 year warranty and life-time tech support,please contact us if you have any product questions.
Bestseller No. 3
Backup Camera HD Waterproof Night Vision Metal Rear View Reverse Cam for Car Truck Pickup RV Van SUV DoHonest P31
►HD Image & Color Night Vision: P31 Backup camera for car is with high definition sensor, which shows a clear and true color reproduction for the driver whenever in the day or night. NOTE: the package doesn't include the monitor, please use the monitor/radio with rca/av imput.
►Metal Material & IP69 Waterproof: RV backup camera housing is metal, its durability is up to 3-5 years. Backup camera for truck is IP69 waterproof rating and designed with fully sealed glue filling craft, you absolutely no need to worry about water, fog or mist inside.
►Multi-functions: P31 Rear view mirror camera built in multifunctional switching loops function. Mirrored image can be switched on/off, onscreen parking guideline can be switched on/off, Horizontal-facing/ Vertical-facing is selectable mounting orientation/aim. And it has a wide 170 degree viewing angle to reduce blind spots.
►Easy Installation: Car security camera can opt to be positioned under/to your side mirror, front bumper, front grille, rear decklid, fender, tailgate handle, trunk lid/SUV, or anywhere else you can imagine. Factory small OEM-look designed, P31 car camera can be well hidden in your car.
►High Compatibility & 3-Year Warranty: P31 Reverse camera for car can fit most types of DC 11-24V different length vehicles. Like car, truck, camper, rv, pickup,van and etc. And our product support 24-Hour Online Customer Service, 30-day money-back guarantee, 36-month replacement warranty, and lifetime support.
Bestseller No. 4
NATIKA Backup/Front View Camera,IP69K Waterproof Great Night Vision HD and Super Wide Angle Metal OEM Style Reverse Rear View Backup Camera for Cars Pickup Trucks SUVs RVs Vans (Black)
Backup camera with IP69K waterproof IP rate.It designed with fully sealed glue filling craft, so it waterproof function is better than IP67 and IP68, you absolutely no need to worry about water, fog or mist inside. NOTE: please separately order a suitable harness to complete installation if connect it to a factory radio/screen.
Rear view camera with a latest HD 600TVL 1/2.7inch image sensor and 170 degree super wide viewing angle lens, that's great for you to check the invisible blind spot clearly and make parking safe and simple.
Reverse camera housing is metal,small size and OEM style design. Also it is built in multifunctional switching loops function,you can switch it to be front view, also support guide line on/off switching and cut the purple loop to choose a vertical down-ward view from like a tailgate down view(tailgate mounting).
Backup camera can fit most types of DC 12-24V different length vehicles. Such as Cars, Pickup Trucks, SUVs, Vans, RVs, etc. It with great night vision (low illumination level: 0.01Lux).
Customer satisfaction is our top priority. NATIKA offer 30 days money back guarantee,24 months replacement warranty,lifetime support guarantee and 7 days-24 hours professional customer service and technical support.
Bestseller No. 5
ZEROXCLUB HD Car Backup Camera 6 Auto LED Lights Night Vision, IP69 Waterproof Wired License Plate Rear View Camera 149° Wide View Reversing Camera for Car Pickup Truck SUV-B2
【HD 720P Image Quality 】Reflect true and real time image, maintain original color, adopts the advanced optical design and remarkable image processing technology to provide 720P resolution image for your vehicle.
【Super Night Vision & Wide Angle】Equipped with 6 Auto High brightness LED Light,149 degree super wide angle rear view camera help you see things more comprehensively, capture road condition better even in dim or poorly backlit.
【Excellent IP69k Waterproof 】With IP69K waterproof design, even at Rain /Snow/Fog still can see road condition clearly, This Car Rear View Camera still work in extreme weather(-30℉ to 176℉), provides clear image without delay.
【Easy Installation and Wide Compatibility】This reversing camera work perfectly with your radio, screen, stereo or monitor has the RCA connector. It is universal for most vehicle license plate like Trailer/Truck/RV/Pickup/Van/SUV/Camper and so on.
【Comprehensive and Considerate After-Sales Service】 ZEROXCLUB offer 36-month replacement warranty to each of our customers from the date of purchase, so if you find the package any defective, damage, missing parts, etc. Please contact us anytime, we will get back to you within 24 hours.
Sale
Bestseller No. 6
License Plate Frame Backup Camera Night Vision Car Rear View Camera with 8 Bright LEDs 170° Viewing Angle Waterproof Backup Camera Vehicle Universal Reversing Assist Security
HEAVY-DUTY LICENSE PLATE FRAME BACKUP CAMERA: Perfect for all vehicles that use a standard US license plate, holds your car backup driving security. 𝐎𝐧𝐥𝐲 𝐬𝐮𝐢𝐭 𝐟𝐨𝐫 𝟏𝟐 𝐃𝐂 𝐏𝐨𝐰𝐞𝐫. Not only it can offer the protection for license plate but also offer the stylish look
2022 UPGRADE AHD 720P VEHICLE CAMERA: The picture is more high-definition, and it is safer to reverse at night. 𝐢𝐟 𝐲𝐨𝐮𝐫 𝐝𝐢𝐬𝐩𝐥𝐚𝐲𝐞𝐫 𝐝𝐨𝐧'𝐭 𝐬𝐮𝐩𝐩𝐨𝐫𝐭 𝐀𝐇𝐃, 𝐩𝐥𝐞𝐚𝐬𝐞 𝐜𝐮𝐭 𝐭𝐡𝐞 𝐰𝐡𝐢𝐭𝐞 𝐜𝐚𝐛𝐥𝐞 𝐭𝐨 𝐠𝐞𝐭 𝐭𝐡𝐞 𝐂𝐕𝐁𝐒 𝐯𝐢𝐝𝐞𝐨 𝐬𝐢𝐠𝐧𝐚𝐥.
170° WIDELY VIEWING ANGLE: To work perfectly, the viewing angle macro lens with mirror image give you a wide viewing horizon. License plate camera built high sensitive color CMOS image sensor to eliminates all the blind spots behind the car
IP67 WATERPROOF &SHOCKPROOF: High waterproof level, reverse camera would never be fogged or wet even in storm or bad rainy day. Plus, professional shockproof design, the safety & security assist camera does work for your vehicle all the time
NIGHT VISION BETTER THAN IR LIGHTS: With 8 white LEDs, night vision reversing camera provides you realistic and comfortable images for night time or dark space backing up than other infrared camera
Bestseller No. 7
AUTO-VOX CS-2 Wireless Backup Camera, Stable Digital Signal Rear View Camera&4.3'' Monitor, Back Up Camera System Wireless for Car, Trucks, RV, Trailer, Camper,Van
【Back Up Camera with Stable & Vivid Image】With digital wireless signal, CS-2 license plate car backup camera delivers a stable image without any interference from other signals. Equipped with a PC1058 sensor, the rear camera provides vivid footage, which restores what you see behind your vehicles directly.
【Accuracy - Top priority for parking Camera】The reverse camera comes with 110 golden angles to avoid image distortion.CS-2 wireless backup camera for trucks is the best choice for reversing/monitoring. Together with the adjustable parking lines that fit different heights camera installation place makes CS-2 a trusted parking assistant.
【Ideal Back up Camera Systems for Car】The waterproof standard of this camera is IP 68, the highest and lowest temperature resistance is -4°F~149°F, and the lumen rating is 0.1 at low light night. Therefore whether it is sunny or rainy, hot or cold, day or night, the camera always performs well.
【Easy Installation Wireless Rear View Camera】The suction cup mount allows you to install the monitor on windshield or dashboard. The transmitter is cleverly designed inside the backup camera, no wires connecting from monitor to rear camera, all of these simplify the installation. you just need to mount the monitor, attach the rear camera to the license plate and connect it to reverse light or constant power.
【License Plate Backup Camera with High Compatibility】The wireless range can be up to 100ft in the open area, so you can mount the camera in any position of your vehicle. The image can be flipped between mirror (rear view) and facing (front view), which ensures you can use the camera as rear backup camera or front camera optional.
Bestseller No. 8
Backup Camera HD 1080P Rear View Monitor Kit Night Vision Waterproof Reverse Camera for Car Truck Pickup Minivan DIY Grid Lines DoHonest S01
【Plug and Play】:Car backup camera with monitor is powered by connecting to reverse/running lights for reversing use/running use. 2022 Newly upgraded system simplies the wired connection that you only needs power to the monitor and camera and you can get the stable and clear image.
【Multi Function】:Backup camera for truck comes with 6 functions including on/off guide lines,flip images mirrored/facing/horizontal flip/vertical flip, adjust the width/length/downward angle for guide lines.
【Perfect Viewing Angle & Waterproof Rate】:Adjustable reverse camera vertical view angle, showing non deformable images by 150° perfect gold viewing angle. IP69 waterproof standard suv back up camera secures your driving safety no matter what the weather like.And with 7 LED lights enhance night vision capability.
【4.3 inch LCD display】:Truck backup camera can be directly attached to flat surface dashboard,adhesive foam and pedestal was provide. or you can install the monitor on the windshield.
【Friendly Service】:S01 rear view mirror camera suit for Vehicle,Car,Pickup Truck,SUV,Minivan and Sedans.And we provide 24-Hour Online Customer Service, 45-Day Money-Back Guarantee, 3-Year Replacement Warranty and Lifetime Support.
Sale
Bestseller No. 9
Car Backup Camera, Rear View Camera Ultra HD 12 LED Night Vision, Waterproof Reverse Camera 140° Wide View Angel with Multiple Mount Brackets for Universal Cars, SUV, Trucks, RV and More
【Ultra HD Screen & Accurate Color】The backup camera is designed to eliminate blind spots and avoid obstacles when reversing. 680P Ultra HD picture shows a clear image for the driver. No more annoying blurry discoloration screen and picture, and displays the most ideal road condition.
【12 LED & Superior Night Version】12 LED super bright lights illuminates the images when daylight is low, and greatly enhances night vision with sharp images. The sensor will turn on the light automatically when you activate the reverse gear, which gives you the best view for parking.
【IP68 Waterproof & 140° View Adjustable Angle】The camera will be protected from powerful jets of water from any direction, such as rain and a car wash. Works well in extreme weather. Adjustable vertical 140° perfect viewing angle, which allows you to adjust the camera to a position that's best for you, effectively reducing the accident rate.
【2 in1 Installation & Tools Included】Camera can be installed on license plate frame, or mounted on back, front, and side based on your preference. The camera or its mounting bracket will not take a lot of space on your license plate. Suitable for most 12V-24V vehicles, such as Jeeps, SUV, RV, VAN, etc.
【Best Customer Service】INCLAKE backup camera is guaranteed to provide a safe road trip.Feel free to contact us if you have any issues with the item.
Sale
Bestseller No. 10
Backup Camera HD 1080P Rear View Monitor for Car Truck Camper Minivan Reverse Cam System License Plate Waterproof Clear Night Vision DIY Guidelines AMTIFO A2
►【Easy Installation】Newly upgraded car camera that you only needs power to the 4.3 inch monitor or back up camera and you can get the stable and clear image.
►【HD 1080P Image】Rear view camera a multi-tasker that offers clear graphics at an affordable price. 1080P high definition resolution that offers clear picture quality even at night.150 degree, wide viewing angle provides you larger visible area for safety even at night.
►【Multi-function Backing Camera】Back up camera systems for car is IP69 waterproof, Switch Rear or front view etc function. Also upgraded camera that the bracket can be hidden under the license plate.
► 【Monitor Button Function】The reverse camera can turn on/off guide lines through the buttons of the monitor, move the guide lines to right, left, up and down and adjust the line width. Also 4.3 inch monitor can switch Brightness/Contrast/Saturation/Tint/Language and reset.
►AMTIFO A2 security camera for car provide 2-year warranty and Free tech support and replacement service. We know you will be pleased with this camera. If you have any questions,just contact us.
Last update on 2022-11-29 / Affiliate links / Images from Amazon Product Advertising API
This product was presentation was made with AAWP plugin.