APPLICABLE MODEL(S)/VINS
2013-2016 CX-5 vehicles equipped with a sunroof with VINs lower than JM3KE******603848 (produced before Dec. 02, 2014)
2014-2015 Mazda3 (Japan built) vehicles equipped with a sunroof with VINs lower than JM1BM******247831 (produced before Dec. 02, 2014)
2014-2016 Mazda6 vehicles equipped with a sunroof with VINs lower than JM1GJ******400443 (produced before Dec. 02, 2014)
DESCRIPTION
Some customers may complain that in extreme cold weather conditions, the sunroof may suddenly open by itself when the heater is on. This concern may be due to a short in the sunroof switch (A) caused from condensation generated between the roof panel and the seal.
To eliminate this concern in the future, a protective film has been installed to the switch and a pad installed to the harness.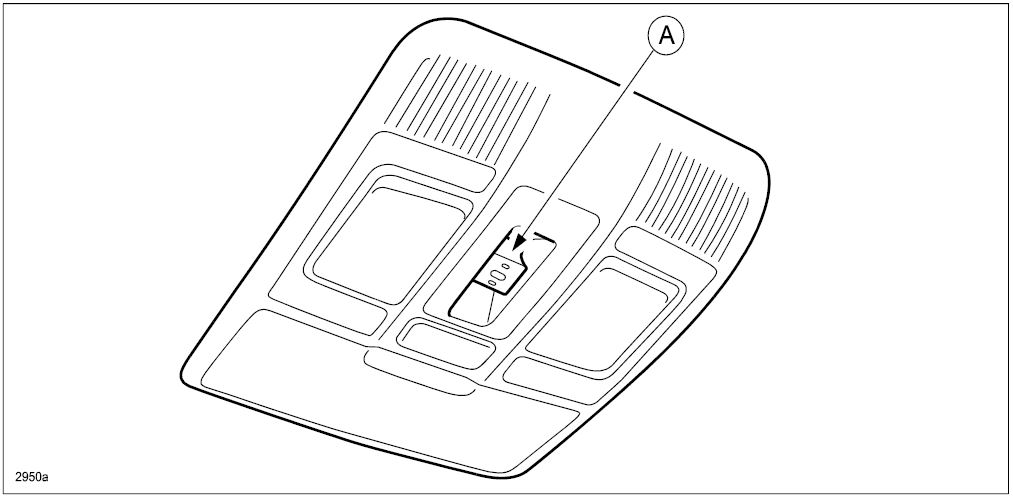 Customers having this concern should have their vehicle repaired using the following repair procedure.
REPAIR PROCEDURE
Remove the front map light (with sunroof switch) according to the instructions on MS3 (MAP LIGHT REMOVAL/INSTALLATION).
Cut a 20 mm x 50 mm piece from the urethane pad.
NOTE: One (1) pad can repair ten (10) vehicles.
NOTE: The sunroof connector is located in the center of the map light.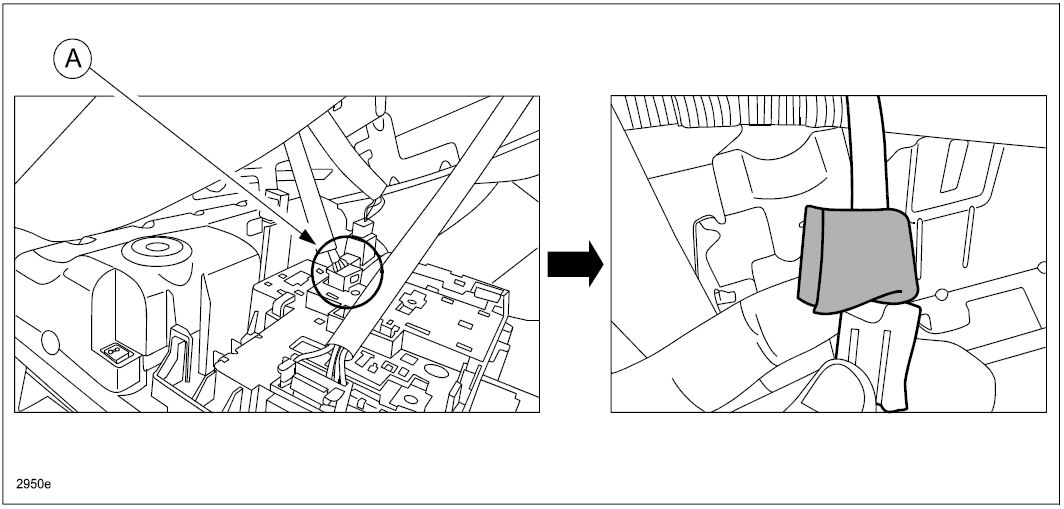 PART(S) INFORMATION
| Description | Qty. | Note | Part Number |
| --- | --- | --- | --- |
| Front Map Light | 1 | Includes new sunroof switch | KD47-69-970C-75 |
| Urethane Pad | 1 | One (1) pad can repair ten (10) vehicles. | D6Y1-61-888 |
WARRANTY INFORMATION
NOTE:
This warranty information applies only to verified customer complaints on vehicles eligible for warranty repair.
This repair will be covered under Mazda's New Vehicle Limited Warranty term.
Additional diagnostic time cannot be claimed for this repair.
| | |
| --- | --- |
| Warranty Type | A |
| Symptom Code | 61 |
| Damage Code | 9Y |
| Part Number Main Cause | KD47-69-970C-75 |
| Quantity | 1 |
| Operation Number / Labour Hours: | XXKAZXRX / 0.2 Hrs. |
NOTE: The cost of the urethane pad is included in the labor allowance and cannot be claimed.
---
09-040/16
06/24/2016
https://www.nhtsa.gov/recalls?nhtsaId=10092922
https://www.nhtsa.gov/recalls?nhtsaId=10092070
https://static.nhtsa.gov/odi/tsbs/2016/SB-10092922-6903.pdf
---
Bestseller No. 1
Invisible Glass 99031 Reach and Clean Tool Combo Kit - Window Wand Glass Cleaning Tool for Windshields, Invisible Glass Cleaner for Auto Glass, Clean and Reach Tool for Hard-to-Reach Places
THE ORIGINAL: Trust the original windshield cleaner for reaching tight and difficult spaces at home and in your car. The Reach & Clean tool window wand cleans glass almost effortlessly.
WASHABLE: Simply remove the washable microfiber glass cleaning bonnet and throw it in the wash for a consistent streak-free, lint-free clean that leaves any glass looking new.
REVERSIBLE: Easily reverse the cleaning cloth for even more glass-cleaning power! Enjoy a remarkable clean that other tools simply can't match!
REUSABLE: Why waste time and money with streaky paper towels? Our Invisible Glass cleaner microfiber bonnets are reusable and leave a stunning shine that will make your windows look like new!
EXTENDABLE: The perfect easy glass-cleaning tool for hard-to-reach places. The storage hook can be removed and a standard extension pole can be screwed on to extend your reach, making it effortless to clean glass in high or hard to reach places!
Bestseller No. 2
Sale
Bestseller No. 3
Bestseller No. 4
Sale
Bestseller No. 5
Shine Society Glass and Window Cleaner, 100% All-Natural Anti Streak Formula, Made for Tinted and Non-Tinted Car Windows with Microfiber Towel Included (18 oz.)
PROFESSIONAL GLASS CARE: Are you finding fingerprints, streaks, and smudges impairing the view out of your windshield or drivers side window? It's time to use what the pro's use! This glass cleaner was made to deep clean all types of glass to perfect clarity.
ANTI-STREAKING FORMULA: This glass cleaner was designed to eliminate streaks and keep them off! Achieve that transparent clean consistently with this automotive glass cleaner!
DISINFECTANT: All too often we use window cleaners that only remove dirt - which is fine, but Shine Society's Glass Cleaner takes it one step further. This window cleaner will effectively eliminate 99.9% of all germs and bacteria that sit on the surface of your glass or windows!
ALL-NATURAL FORMULA: Made with all-natural and sustainable ingredients, making this window cleaner safe for use around your children and pets.
EASE OF USE: Simply spray on, and wipe off in a circular motion with two separate microfiber towels!
Bestseller No. 6
Hope's Perfect Glass Cleaner, 2 Piece, 32 Oz. Spray Bottle and 67 Oz. Refill Bottle
Streak-Free - Our premium 100% streak-free glass cleaning spray is specifically designed with a no-residue formula to eliminate the haze other glass cleaners leave behind. No shade required - works great in direct sunlight.
Multi-Surface - Perfect Glass works great on multiple types of surfaces such as windows, mirrors, glass surfaces, tabletops, glass cooktops, light fixtures, shower enclosures, TV screens, and more.
Number 1 Rated - Perfect Glass was the number 1 rated glass cleaner in testing by a leading consumer magazine in 2008, 2011, and 2015, and only "took 11 strokes to clean the window, while others required 17 to 70 strokes."
Ammonia-Free - Perfect Glass isn't just streak-free, it's ammonia-free. This delivers high performance that's safe on tint film and tinted windows.
Safe for Screens - Our streak-free glass cleaning spray is great for all of your "screens", which in most cases is Gorilla Glass or similar. Just be sure to spray the cloth and then wipe, rather than spraying directly on the device.
Bestseller No. 7
Bestseller No. 8
XINDELL Window Windshield Cleaning Tool Microfiber Cloth Car Cleanser Brush with Detachable Handle Auto Inside Glass Wiper Interior Accessories Car Cleaning Kit
Intimate Combination: The car windshield cleaner comes with detachable handle, can be disassembled into halves for storage with 2 pads washer towel and 30ml spray bottle.
Fast and Easy to Cleaning Auto Windshield: Clean car window interiors and exteriors without straining! No more hurting your back. With the Extra Long extension handle and pivoting head getting to those hard-to-reach car window bases is simple. Can remove more dirt and dust, easy to clean.
Apply to: Works great as a fog & moisture removal tool. Use the cleaning brush set in your car, hard to reach windows in your house, television, glass screens, glass mirrors and even floors. Good for all size cars, trucks, SUVs, and RVs.
Great Design Car Window Cleaner: Long ergonomic handle, easily extend to hard-to-reach window bases, leaving surfaces for even cleaning.Washable microfiber pad, can remove more dirt and dust, easy to clean.
100% Satisfaction Guarantee: If the Car Window Cleaner make you dissatisfied or have any quality problems, just contact us by email, we would replace any defective products for our customers.
Sale
Bestseller No. 9
Windshield Window Cleaner Tool, Unbreakable Extendable Long-Reach Handle, Unique Pivoting Triangular Head, 3 Washable Reusable Microfiber Bonnets, Car & Home Inside Interior Exterior Use - Lint Free
√ FAST AND EASY TO CLEANING AUTO WINDSHIELD: Clean car window interiors and exteriors without straining! No more hurting your back. With the Extendable 9"-15" handle and pivoting head getting to those hard to reach the corners inside the windshield is simple. You get the cleaner and clearer shine every time. Perfect gift for Men & Women who love a clean vehicle!
√ 180°SWIVELED TRIANGULAR HEAD: Designed with pivoting triangular head to make a complete contact to the glass, which can be rotated 180 degrees to fit the glass surface very well, easy to clean the bottom of car windows or some hard-to-reach areas, easy to use and effortless.
√ CONSIDERABLE PACKAGE: Came with three pieces of removable and reusable fiber towels for easy replacement. The towel is made of soft microfiber and the surface of the fabric is finely treated , which must clean your vehicle well and never cause streaking after cleaning.
√ Wide Application: It can be used for car windows inside and outside, and good for all size cars, trucks, SUVs, RVs, you can also use this cleaning brush to clean your cars, windows, television, glass screens, glass mirrors and even floors. A must have product for your car care kit!
√ 100% RISK FREE PURCHASE: Providing you with the friendliest customer service is our number one goal. This is why we offer you a money back guarantee in case our Windshield Wiper Tool does not live up to your expectations.
Sale
Bestseller No. 10
Microfiber Glass Cleaning Cloths - 8 Pack | Lint Free - Streak Free | Quickly and Easily Clean Windows & Mirrors Without Chemicals
Our Method Works! It's quick and easy. Plus, no more steaks and no more chemicals! The pack includes 6 blue glass cloths and 2 green cleaning cloths.
First, clean the glass with a damp green cloth, then follow up with the dry blue cloth. You will be amazed at how fast you can get it done!
Environmentally friendly and healthier alternative to conventional spray and wipe method; get amazing results with just water.
Machine Washable hundreds of times; lint free.
Start cleaning smarter, order today! Detailed use and care instructions included.
Last update on 2019-11-19 / Affiliate links / Images from Amazon Product Advertising API
Last update on 2019-11-19 / Affiliate links / Images from Amazon Product Advertising API