Subject:

RATTLE NOISE FROM FRONT DOOR GLASS

Bulletin No: 09-041/16
Last Issued: 06/24/2016
BULLETIN NOTE
This bulletin supersedes the previously issued bulletin(s) listed below. The changes are noted in Red beside the change bars.
| | |
| --- | --- |
| Previous TSBs: | Date(s) Issued: |
| 09-016/15 | 05/18/15 |
| 09-017/14 | 03/05/14, 08/18/14 and 08/29/14 |
| 09-011/13 | 04/17/13 |
APPLICABLE MODEL(S)/VINS
2013-2016 CX-5
DESCRIPTION
Some vehicles may experience a rattle noise from the front door glass when driving with the window open approx. 1/2 to 4 inches (1 – 10 cm).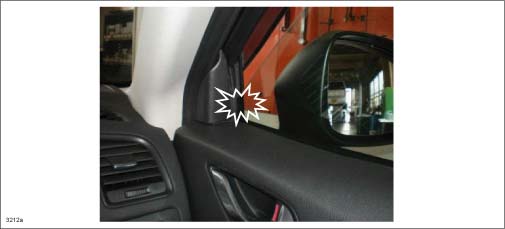 The rattle noise may be caused by insufficient holding force of the glass run channel. To increase the holding force, the shape of glass run channel has been changed and non-woven pads have been attached to the glass run channel.
Customers having this concern should have their vehicle repaired using the following repair procedure.
REPAIR PROCEDURE
Verify the customer concern. The rattle noise should go away when holding the slightly opened window by hand or when the window is completely closed.

If the noise does not go away, this service bulletin does not apply. Troubleshoot the noise according to section 09 (Body and Accessories) of the MS3 online instructions or the Workshop Manual.

If the noise does go away, proceed to Step 2 and attach the non-woven pads to positions (A), (B) and (C) of the glass run channel.
NOTE:   One (1) sheet of the non-woven fabric (KAY0-58-871) can repair (4) doors.
Using a straight-edge and sharp knife, cut the

(100mm x 150mm x 1mm)

non-woven fabric sheet into the following size pads.
| | | | |
| --- | --- | --- | --- |
| Pad | Pad A | Pad B | Pad C |
| Pad Size | 6mm x 140mm x 1mm | 5mm x 100mm x 1mm | 8mm x 40mm x 1mm |
|  Pad Quantity | 1 | 2 | 2 |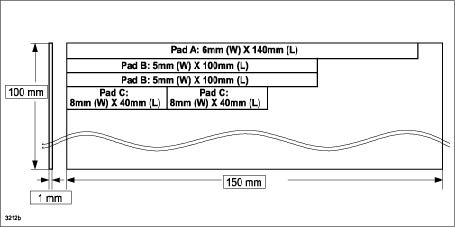 Remove the glass run channel from the affected side(s) according to the instructions on MS3 online or the Workshop Manual (section 09-12 FRONT DOOR GLASS REMOVAL/INSTALLATION).
Degrease the new glass run channel in the locations where the

pads (A, B and C)

will be attached.
Apply an adhesion promoter (one that is suitable for use on plastic) to the locations where the pads will be attached.
NOTE:
Obtain adhesion promoter locally.
Recommended adhesion promoter: 3M K-540NT, K500 or 4298UV. If these products cannot be obtained, any adhesion promoter suitable for plastic can be used.
ATTACH PAD A: Attach Pad A (6mm x 140mm x 1mm) to the position on the new glass run channel, as shown below.
NOTE: The illustrations below show the right-side glass run channel. The same procedure is applicable to the left side.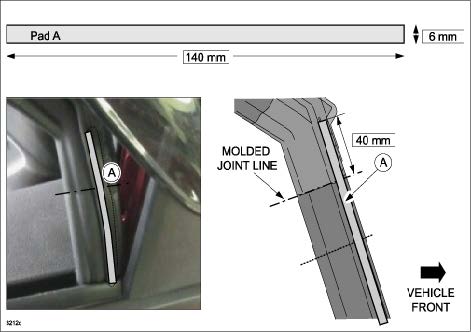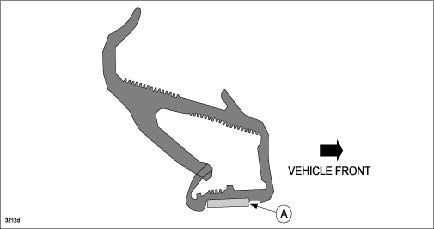 ATTACH PADS B AND C: Attach Pad B (5mm x 100mm x 2mm) and Pad C (8mm x 40mm x 2mm) to the correct positions on the new glass run channel, as shown below.
NOTE:   Stack two pieces (B + B and C + C) together to get 2mm thickness.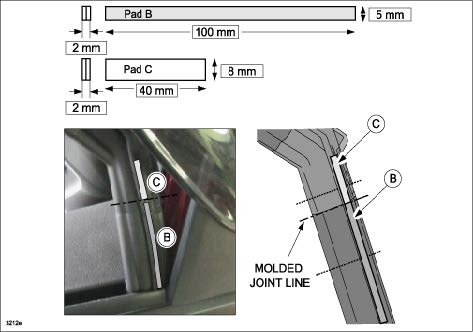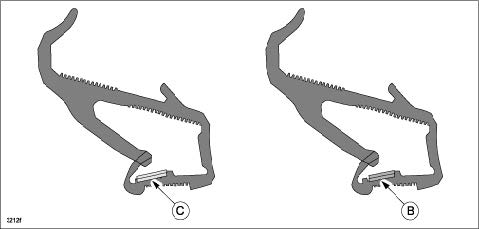 Install the glass run channel in the reverse order of removal.
Operate the door glass up and down to verify proper operation.
Repeat the repair on the opposite side glass run channel as necessary.
PART(S) INFORMATION
| Description | Qty. | Notes | Part Number |
| --- | --- | --- | --- |
| Non-Woven Fabric | 1 | Sheet dimensions: 100mm x 150mm x 1mm One sheet can repair four (4) doors. | KAY0-58-871 |
| Glass Run Channel (R) | 1 | — | KD53-58-605L |
| Glass Run Channel (L) | 1 | — | KD53-59-605L |
WARRANTY INFORMATION
NOTE:
This warranty information applies only to verified customer complaints on vehicles eligible for warranty repair.
This repair will be covered under Mazda's New Vehicle Limited Warranty term.
Additional diagnostic time cannot be claimed for this repair.
Warranty Type
A
Symptom Code
82
Damage Code
97
Part Number Main Cause
****-59-605* / ****-58-605*

(Enter the part number of glass run channel for the affected side. If both sides are replaced, enter the other side as a related part number)

Quantity

1

Operation Number / Labor Hours

XXM3TCRX / 0.5 Hrs. (one side)




XXM3TDRX / 0.9 Hrs. (both sides)
NOTE: Claim the non-woven fabric sheet (KAY0-58-871) as a related part. The amount of adhesion promotor used for this repair is included in the labor allowance.
---
09-041/16
06/24/2016
https://www.nhtsa.gov/recalls?nhtsaId=10092941
https://www.nhtsa.gov/recalls?nhtsaId=10092071
https://static.nhtsa.gov/odi/tsbs/2016/SB-10092941-6903.pdf
---
Bestseller No. 1
MEGUIARS WAX G8224 Perfect Clarity Glass Cleaner, 24 Fluid Ounces
PRO-STRENGTH: Pro-Strength glass cleaner spray to easily remove dirt, grime, grease and film
GENTLE AND SAFE: Ammonia-free, safe on window tint
QUICK CLEANING: Quickly cleans and removes bugs, tree sap, road grime, smoker's film and bird droppings
STREAK-FREE: anti-hazing auto window cleaner is streak-free for perfect clarity
SUPERIOR CLEANING: Auto glass cleaner spreads and wipe off quickly, with superior cleaning ability to tackle even the dirtiest glass
Bestseller No. 2
Invisible Glass 99031 Reach and Clean Tool Combo Kit - Window Wand Glass Cleaning Tool for Windshields, Invisible Glass Cleaner for Auto Glass, Clean and Reach Tool for Hard-to-Reach Places
THE ORIGINAL: Trust the original windshield cleaner for reaching tight and difficult spaces at home and in your car. The Reach & Clean tool window wand cleans glass almost effortlessly.
WASHABLE: Simply remove the washable microfiber glass cleaning bonnet and throw it in the wash for a consistent streak-free, lint-free clean that leaves any glass looking new.
REVERSIBLE: Easily reverse the cleaning cloth for even more glass-cleaning power! Enjoy a remarkable clean that other tools simply can't match!
REUSABLE: Why waste time and money with streaky paper towels? Our Invisible Glass cleaner microfiber bonnets are reusable and leave a stunning shine that will make your windows look like new!
EXTENDABLE: The perfect easy glass-cleaning tool for hard-to-reach places. The storage hook can be removed and a standard extension pole can be screwed on to extend your reach, making it effortless to clean glass in high or hard to reach places!
Sale
Bestseller No. 3
Sale
Bestseller No. 4
Bestseller No. 5
Bestseller No. 6
Bestseller No. 7
Sale
Bestseller No. 8
Shine Society Glass and Window Cleaner with Free Microfiber Towel, 100% All Natural Heavy Duty Glass Cleaner for Tinted or Non Tinted Automotive Glass (18 oz.)
✅ PROFESSIONAL GLASS CARE: Are you finding fingerprints, streaks, and smudges impairing the view out of your windshield or drivers side window? It's time to use what the pro's use! This glass cleaner was made to deep clean all types of glass to perfect clarity.
✅ ANTI-STREAKING FORMULA: This glass cleaner was designed to eliminate streaks and keep them off! Achieve that transparent clean consistently with this automotive glass cleaner!
✅ DISINFECTANT: All too often we use window cleaners that only remove dirt - which is fine, but Shine Society's Glass Cleaner takes it one step further. This window cleaner will effectively eliminate 99.9% of all germs and bacteria that sit on the surface of your glass or windows!
✅ ALL-NATURAL FORMULA: Made with all-natural and sustainable ingredients, making this window cleaner safe for use around your children and pets.
✅ EASE OF USE: Simply spray on, and wipe off in a circular motion with two separate microfiber towels!
Bestseller No. 9
Invisible Glass 92194 32 oz. - Cleaner and Window Spray for Home and Auto for a Streak-Free Shine, Film-Free Glass Cleaner Safe for Tinted and Non-Tinted Windows. Windshield Film Remover, Set of 1
CLEAR DRY FORMULA: The Invisible Glass CLEAR DRY formula contains no streaky soaps, scents, or dyes. Absolutely ZERO residue on your glass – just invisible glass.
CONVENIENT SPRAY BOTTLE: This 32 oz. spray pump bottle makes it easy to squeeze out every drop of glass cleaner for a brilliant shine on all glass surfaces.
AMMONIA-FREE: Our unique Invisible Glass formula contains no ammonia, so it's perfect for use on tinted and non-tinted glass. Use it at home, on stainless steel appliances, in the car, on the boat, at the office, and more.
MADE IN USA: Proudly American-made, you can trust the quality and superior formula of this glass cleaner and window spray. It's the best super window cleaner you can buy.
MONEY-BACK GUARANTEE: If you're not completely satisfied with the performance of Invisible Glass Cleaner, simply let us know for a prompt and cheerful refund, guaranteed!
Bestseller No. 10
3M Glass Cleaner, 08888, 19.0 oz
Aerosol application for all glass surfaces
May be used on automotive vinyl and interior plastic
No drip foaming action - clings to vertical surafces and streak-free shine
Streak-free formula puts the sparkle and shine back into automotive glass
Cuts through stubborn grit and grime on windshields and windows
Last update on 2020-03-31 / Affiliate links / Images from Amazon Product Advertising API
Last update on 2020-03-31 / Affiliate links / Images from Amazon Product Advertising API