APPLICABLE MODEL(S)/VINS
2016 CX-5 vehicles with VINs lower than JM3KE******736277 (produced before October 31, 2015)
DESCRIPTION
Some vehicles may have a rear console lid that cannot be locked due to a broken latch (A).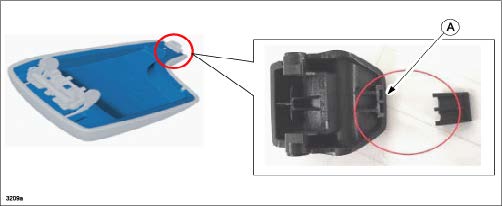 The rear console lid latch may be broken by excessive force applied to the lid. To eliminate this concern, the shape of the rear console lid latch has been changed to increase its strength.
Customers having this concern should have their vehicle repaired using the following repair procedure.
REPAIR PROCEDURE
Verify the customer concern.
Remove the console lid and inner cover according to the instructions on MS3 online or the Workshop Manual (section 09-17 CONSOLE LID REMOVAL/INSTALLATION).
NOTE: Apply protective tape (A) to the tip of a screwdriver. Insert the screwdriver into the space between the console lid and the inner cover.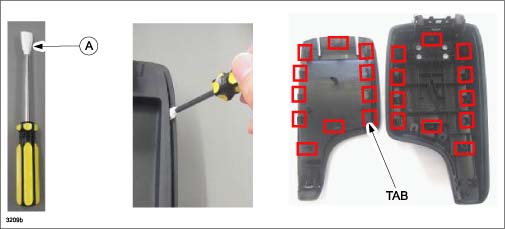 Pull out the pin using pliers.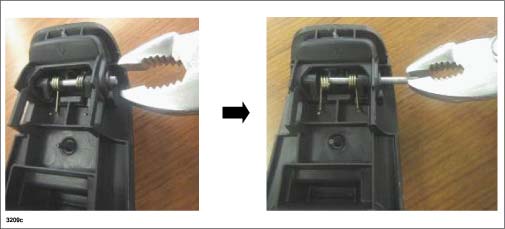 Remove the spring (A) and the console lid lock (B).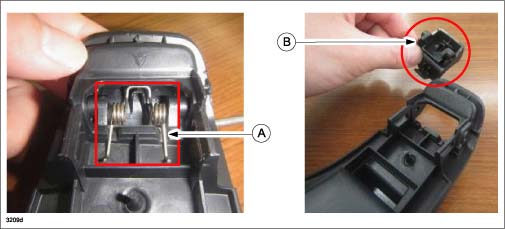 Install a new (modified) console lid lock, then the other removed parts in reverse order.
NOTE: Verify that the lock can move smoothly before installing the console lid onto the inner cover.
Verify the repair.
PART(S) INFORMATION
WARRANTY INFORMATION
NOTE:
This warranty information applies only to verified customer complaints on vehicles eligible for warranty repair.
This repair will be covered under Mazda's New Vehicle Limited Warranty term.
Additional diagnostic time cannot be claimed for this repair.
This TSB can be performed by D329 Mazda Certified Lube Technicians.
| | |
| --- | --- |
| Warranty Type | A |
| Symptom Code | 42 |
| Damage Code | 9A |
| Part Number Main Cause | KA0G-64-45Y-02 |
| Quantity | 1 |
| Operation Number / Labor Hours: | XXM3NXRX / 0.3 Hrs. |
| TSB can be performed by D329 Mazda Certified Lube Technicians: | Yes |
---
09-039/16
06/14/2016
https://www.nhtsa.gov/recalls?nhtsaId=10092782
https://www.nhtsa.gov/recalls?nhtsaId=10092041
https://static.nhtsa.gov/odi/tsbs/2016/SB-10092041-6903.pdf
---
Bestseller No. 1
Chemical Guys Leather Cleaner and Conditioner Complete Leather Care Kit (16 Oz) (2 Items)
It's Not Just for Car Seats & Interiors: This kit works on all things leather, seats, interiors, jackets, shoes, sneakers, boots, sofas and more; Everyone has something leather in their home.
Treat Your Leather Like Your Hair & Skin: We all wash our skin and hair on a regular basis, and use conditioners and lotions to keep out skin hydrated and fresh.
PH Balanced: Leather Cleaner is pH balanced for the most efficient cleaning and preserves the leather's strength, durability and appearance; Penetrates the pores of leather to lift and suspend dirt and oils
Fast, Easy & Fun: No one "loves to clean", but if you are using products that make it fast and easy, it's certainly more fun both products are extremely easy to use, and leave no residue like soaps, nor will they contribute to fiber deterioration
Keep Your Leather Looking & Smelling New: Leather cleaner is colorless and odorless and penetrates the pores of your leather to lift and remove dirt and oils, while leather conditioner, which has a subtle leather scent, contains Vitamin E to nourish your leather and help reduce UV damage
Sale
Bestseller No. 2
Lexol Conditioner Cleaner Kit, Use on Car Leather, Furniture, Shoes, Bags, and Accessories, Quick & Easy Step Regimen, 8 oz Bottles, Includes Two Application Sponges
Easily clean and condition leather to renew its appearance and prolong suppleness with this 2-step Lexol Leather Regimen Kit
Kit contains: (1) 8 oz. bottle of All Leather Deep Cleaner, (1) 8 oz. bottle of All Leather Deep Conditioner, and 2 Premium Applicator Sponges
Cleaner restores and revives leather by lifting dirt and oils, allowing them to be easily wiped away
Conditioner contains fine oil droplets that nourish, restore flexibility, and protect leather against cracking without leaving greasy residue
Easy-to-use cap dispenses, Ideal for use on: leather auto upholstery, footwear, furniture, handbags & briefcases, sports equipment and luggage
Bestseller No. 3
Bestseller No. 4
TriNova Leather Cleaner for Couch, Car Interior, Bags, Jackets, Saddles. Safe for use in Home or Car, Microfiber Included 18oz
☑️ Safe for many surfaces - Will also work on durablend, vinyl, compound, saffiano, faux and other leather or leather-like surfaces.
☑️ Easy to use - simply spray on and wipe off to eliminate almost any surface stain and give new life to your leather.
☑️ Effective and Safe - Works to remove dirt, debris, stains, and grime without using harsh chemicals.
☑️ Premium Formula - Developed by leather experts to deliver top quality results.
☑️ Extend the Life of Your Leather - Routine cleaning and conditioning can help quality leather goods to last a lifetime
Sale
Bestseller No. 5
MEGUIAR'S G10924SP Gold Class Rich Leather Cleaner and Conditioning Spray, 24 Fluid Ounces
All-in-one leather treatment cleans, conditions and protects for complete leather care in one easy step
Gentle leather cleaners safely and effectively remove dirt and grime
UV protection helps prevent premature aging, drying, cracking and fading
Premium leather conditioners and aloe provide nourishment for soft, supple leather
Non-greasy formula cleans and protects without leaving a white residue
Sale
Bestseller No. 6
Leather Honey Leather Conditioner, Best Leather Conditioner Since 1968. for Use on Leather Apparel, Furniture, Auto Interiors, Shoes, Bags and Accessories. Non-Toxic and Made in The USA!
OUR LEATHER CONDITIONER WAS INVENTED OVER 50 YEARS AGO WITH MILLIONS OF HAPPY CUSTOMERS. Same time-tested formula used today!
ONE TREATMENT LASTS SIX MONTHS OR LONGER. Deeply penetrates into the leather's pores to protect new leather and rejuvenate old leather. Softens, moisturizes and promotes flexibility leaving your leather feeling and looking beautiful! A little goes a long way; no need to reapply monthly as with other products.
THIS LEATHER CONDITIONER PROLONGS THE LIFE OF ALL TYPES OF LEATHER, including leather furniture and upholstery, automobile and motorcycle seats, boots, gloves, purses, jackets, saddles and tack. Non-toxic, non-solvent, not sticky, no odor and does not contain silicone. Water, snow and rain repellent formula. Not for use on suede or faux leather/vinyl.
UNLIMITED 100% SATISFACTION GUARANTEE. If you're not satisfied, return the product at any time for a full refund.
A LEATHER CONDITIONER THAT IS MADE IN THE USA by a small family business owned by the grandchildren of the original inventor. Use with Leather Honey Leather Cleaner, also available on Amazon!
Bestseller No. 7
Sale
Bestseller No. 8
Leather Cleaner by Leather Honey: The Best Leather Cleaner for Vinyl and Leather Apparel, Furniture, Auto Interior, Shoes and Accessories. Concentrated Formula Makes 32 Ounces When Diluted!
MADE IN THE USA by a small family business that specializes in the best leather cleaner and conditioner on the market. Millions of happy customers.
CONCENTRATED FORMULA means great value — each four-ounce bottle makes up to 32 ounces of leather cleaner when diluted with water.
QUICKLY AND GENTLY CLEANS all types of leather and vinyl, removing dirt, oil, tough stains and grime. Non-toxic leather cleaner is perfect for every leather product, including saddles and tack, automotive interiors, furniture, handbags, shoes and jackets. Not for use on suede.
UNLIMITED 100% SATISFACTION GUARANTEE. If you're not happy with any of our products, simply return them for a full refund of your purchase price!
SPECIALLY FORMULATED to work with Leather Honey Leather Conditioner, the #1 best-selling leather care product on Amazon.
Bestseller No. 9
Chemical Guys SPI_208_16 Colorless and Odorless Leather Cleaner (16 oz)
Easily wipe away contaminants without harming leather
pH-balanced to leather for the most efficient cleaning
Preserves the leather's strength, durability and appearance
Leaves no residue like soaps and will not contribute to fiber deterioration
Water-based surfactants and non-alkaline cleaning agents penetrate deep into every pore to gently lift out dirt, grease and oils
Bestseller No. 10
Weiman 3 in 1 Deep Leather Conditioner Cream - Restores Leather Surfaces - Use on Leather Furniture, Car Seats, Shoes, Bags, Jackets, Saddles
Specially formulated - clean, condition, & protect leather while restoring it to its original texture & sheen
Moisturizers - instantly revitalize & restore leather, helping to prevent drying out
Use On - your favorite accessories such as leather purses, shoes, boots, briefcases and handbags
Does Not - darken leather
Recommended use on - Finished leather surfaces including car interior shoes boots briefcases handbags & coats - Do not use on suede, nubuck, Natuzzi Brand or any unfinished leather
Last update on 2020-05-26 / Affiliate links / Images from Amazon Product Advertising API
Last update on 2020-05-26 / Affiliate links / Images from Amazon Product Advertising API