Subject:

AUDIO PANEL EDGES ARE WRINKLED / PEELING

Bulletin No: 09-026/16
Last Issued: 04/25/2016
APPLICABLE MODEL(S)/VINS
2016 CX-5 vehicles with VINs lower than JM3KE******779769 (produced before February 15, 2016)
DESCRIPTION
Some customers may notice that the audio panel (or center panel) is wrinkled or peeling at the edges, causing a poor appearance concern.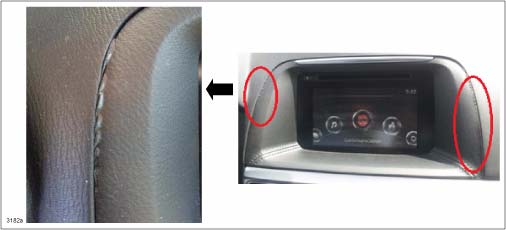 Protective tape has been added to the audio panel to eliminate this concern.
Customers having this concern should have their vehicle repaired using the following repair procedure.
REPAIR PROCEDURE
Verify the customer concern.
Replace the audio panel with a modified part according to the instructions on MS3 online or the Workshop Manual (section 09-17 CENTER PANEL REMOVAL/INSTALLATION).
Verify the repair.
PART(S) INFORMATION
WARRANTY INFORMATION
NOTE:
This warranty information applies only to verified customer complaints on vehicles eligible for warranty repair.
This repair will be covered under Mazda's New Vehicle Limited Warranty term.
Additional diagnostic time cannot be claimed for this repair.
| | |
| --- | --- |
| Warranty Type | A |
| Symptom Code | 87 |
| Damage Code | 9B |
| Part Number Main Cause | KA0G-55-230C-02 |
| Quantity | 1 |
| Operation Number / Labor Hours: | XXM16XRX / 0.3 Hrs. |
---
09-026/16
04/25/2016
https://www.nhtsa.gov/recalls?nhtsaId=10093182
https://static.nhtsa.gov/odi/tsbs/2016/SB-10093182-6903.pdf
SB-10093182-6903

---
Bestseller No. 1
Armor All Car Cleaning Wipes, Wipes for Car Interior and Car Exterior, 90 Wipes Each
One canister of Armor All Car Cleaning Wipes, 90 Count
Interior car cleaner in convenient lint free wipes for easy cleanup as a dust remover and upholstery cleaner wipes
Car vinyl cleaner removes ground-in dirt from all surfaces, including your dash, upholstery and carpet in convenient disposable wipes
Car detailing wipes won't dry out, damage or fade your car's interior
Wipe down all surfaces with the car interior wipes for quick cleaning
Bestseller No. 2
Sale
Bestseller No. 3
Sale
Bestseller No. 4
Protectant Wipes and Glass Wipes by Armor All, Car Cleaning Wipes and Car Glass Wipes, 30 Count Each, 2 Pack
Car Cleaning Supplies: One 30 count canister Armor All Glass Wipes and one 30 count canister of Armor All Original Car Protectant Wipes
Vinyl Protectant: Convenient car wipes in two formulas to safely clean auto glass, vinyl, plastic and rubber
Interior Care: Armor All Protectant cleans, shines and protects your car interior
Glass Cleaner: Armor All Glass Wipes remove road grime, filmy residue, fingerprints and bugs
UV Protection: Interior car cleaner restores luster and fights UV damage
Bestseller No. 5
Armor All Car Cleaning Wipes and Protectant Wipes, Interior Car Wipes - 2 Count
Car Interior Wipes: Two 50 count canisters of Armor All Car Cleaning Wipes and Protectant Wipes
Dirt and Grime Removal: Car interior cleaner wipes clean dirt, grime and dust without damaging interior car surfaces
Prevents Premature Aging: Car protectant wipes help to prevent cracking, fading, discoloration and premature aging
No Greasy Residue: Lint-free, disposable cloths are easy to use without leaving greasy residue on your hands
Moisture Lock Lid: Features Moisture Lock Lid for year-round freshness and quick touch-ups
Bestseller No. 6
Sale
Bestseller No. 7
Car Protectant Wipes by Armor All, Interior Car Wipes with UV Protection Against Cracking and Fading, 60 Count
Protectant Car Wipes: One 60 count flat pack of Armor All Original Formula Car Protectant Wipes
Convenient Interior Cleaner: A convenient wipe with the proven protection of Armor All Original Protectant
Safe for Surfaces: Safely cleans automotive interiors, including vinyl, plastic and rubber
Helps Prevent Cracking & Fading: Helps protect against UV damage to help prevent cracking and fading
Renews & Shines: Adds shine to renew the rich, deep look of your dashboard, console, door panels and vinyl seats
Sale
Bestseller No. 8
Car Wipes Multi-Pack by Armor All, Cleans Vehicle Interior and Exterior, Includes Armor All Protectant Wipes, Armor All Glass Wipes, and Armor All Cleaning Wipes, 3-Pack, 30 Car Wipes Each
[Car Kit]: Armor All Car Wipes Multi-Pack includes a 30-pack canister of Armor All Protectant Wipes, a 30-pack canister of Armor All Glass Wipes and a 30-pack canister of Armor All Cleaning Wipes
[Detailed Look]: With effective cleaning in convenient, disposable car wipes, this car kit includes wipes that clean your vehicle's interior surfaces and exterior glass surfaces to provide a "just-detailed" look
[Car Cleaning Wipes]: Armor All Cleaning Wipes lift away dirt and debris to reveal your car's rich, natural beauty without harming delicate automotive surfaces
[Protects Vehicle Surfaces]: Armor All Original Protectant Wipes help preserve your vehicle's rich look by protecting the interior of your vehicle from harmful elements, including UV rays and oxidation
[Shiny Glass]: Armor All Glass Wipes remove filmy residue, road grime, bugs and fingerprints to leave a crystal clear, streak-free shine on your car's glass surfaces
Bestseller No. 9
Disinfectant Wipes by Armor All, Disinfecting Car Cleaning Wipes, 50 Count Each, Pack of 2
Disinfectant Wipes: 2 packs of 50 Armor All Disinfectant Wipes
Easy to Use: Convenient car cleaner wipes make it easy to disinfect vehicle surfaces when used as directed on label
Disinfecting: Disinfecting wipes kill 99.9% SARS-CoV-2 Virus (1)
Multi-Surface Cleaner: Car cleaning wipes work on hard, non-porous surfaces, including metal, glass and plastic
Interior & Exterior Wipes: Rub a wipe on interior and exterior surfaces to clean and disinfect when used as directed on label
Bestseller No. 10
Armor All Wipes 20 Wipes in a Pouch (Protectant, Cleaning and Glass)
Proven protection of Armor All Protectant in convenient, disposable wipes
Effective cleaning in a convenient, disposable wipe
Incredible clarity and shine
Enhances your vehicle's deep, rich look and adds beautiful shine
Kit with 1 x Protectant 20 Wipes Pouch, 1 x Cleaning 20 Wipes Pouch and 1 x Glass 20 Wipes Pouch
Last update on 2023-03-27 / Affiliate links / Images from Amazon Product Advertising API
This product was presentation was made with AAWP plugin.