July 29, 2019 NHTSA CAMPAIGN NUMBER: 19V558000
Rearview Mirror Glass May Detach From Housing
Rearward visibility will be reduced without the rearview mirror, increasing the risk of a crash.
NHTSA Campaign Number: 19V558
Manufacturer Mazda North American Operations
Components VISIBILITY
Potential Number of Units Affected 22,571
Summary
Mazda North American Operations (Mazda) is recalling certain 2019 Mazda3 vehicles equipped with manual dimming mirrors. The adhesive between the interior rearview mirror and the housing may not be properly bonded, allowing the mirror to detach from the housing. Note: Vehicles equipped with auto dimming mirrors are not affected by this recall.
Remedy
Mazda will notify owners, and dealers will replace the interior rearview mirror assembly, free of charge. The recall is expected to begin August 30, 2019. Owners may contact Mazda customer service at 1-800-222-5500, option 4. Mazda's number for this recall is 3919G.
Notes
Owners may also contact the National Highway Traffic Safety Administration Vehicle Safety Hotline at 1-888-327-4236 (TTY 1-800-424-9153), or go to www.safercar.gov.
Check if your Mazda has a Recall
---
MAZDA DEALER EMAIL
August 1 , 2019
Attention: Mazda General, Parts and Service Managers
Subject: 2019 Mazda3 – The Interior Rearview Mirror Glass May Suddenly Detach From The Mirror Housing – Safety Recall 3919G
Mazda Motor Corporation has decided to conduct a Safety Recall Campaign on certain Japan (MC) and Mexico (MMVO) produced 2019 Mazda3 vehicles within the VIN range below, affecting 22,571 U.S. and U.S. Territory vehicles.
Affected Vehicles:
Model
Subject VIN range
Subject production date range
2019 Mazda3
(built at MC)
JMI BP**** 100042-130354
From September 25, 2018 through March 20, 2019
2019 Mazda3
(built at MMVO)
3MZBP**** KM 100048-114690
From January 1 5, 2019 through June 24, 2019
Action Required:
Currently there are 1 1 , 705 unsold affected vehicles that are in dealer inventory or arriving to your dealership. These vehicles must not be delivered to customers until the recall repair has been completed. As a reminder all vehicles under this recall will show as "Not Launched" status in eMDCS, but can be repaired as a limited amount of parts are available for ordering through the Scarce Parts Ordering page on eMDCS.
Mazda is working with the supplier to quickly receive the necessary parts to complete the recall. Once an adequate number of parts are received at the MNAO PDCS, the Parts Operations Division will process a push order to your dealership for affected inventory and customer vehicles. An eFC will be sent once push shipments are generated. Please remember that the vehicle can be delivered once the recall repair has been completed. Even though the RDR Recall Warning will still display, the Warranty Claim to close the recall is not required to be entered into eMDCS to RDR the vehicle and can be submitted once Parts and Warranty information is available.
Concern Outline:
On certain Mazda3 vehicles, the interior rearview mirror glass may suddenly detach from the mirror housing. The mirror glass was not adequately bonded to the mirror housing during the manufacturing process of the interior rearview mirror unit. As a result, the interior rearview mirror glass on some units may not have full adhesion strength. If the interior rearview mirror glass falls off the mirror housing, the driver may have reduced rearward visibility, which may increase the risk of a crash.
Owner Notification:
Mazda will notify owners of affected vehicles by first class mail no later than September 25, 2019. Owners will be asked to bring their vehicle to the nearest Mazda dealership for repairs.
Important Safety Notice:
The National Traffic and Motor Vehicle Safety Act prohibits the delivery of any subject vehicle without performing the necessary repair for defects or failures. Failure to perform applicable recalls before delivery can result in extensive dealer fines and penalties from the Federal Government. Therefore, you must complete this recall for all affected vehicles in your inventory prior to delivery.
To help you effectively perform this recall, Mazda has developed the following resources:
Affected unsold VIN list will post on MGSS by August 1, 2019. Parts and Warranty information, Repair procedures will post on MGSS (Mazda Global Service Support) websites via MXConnect by August 8, 2019.
For warranty questions, contact the Warranty Hotline at (877) 727-6626, Option 3.
Vehicles will display in eMDCS as "Not Launched" on August 1, 2019. Once Parts and Repair procedures are posted, claims can be input into eMDCS however, repairs MUST be completed on in-stock units and can be completed on customer vehicles that exhibit the condition or that cannot wait.
For parts questions, contact the Corporate Dealer Assistance Group at (877) 727-6626 Option 2.
Please make certain the appropriate personnel in your dealership are aware of these resources and are familiar with the details of this recall before responding to customer inquiries.
We apologize for any inconvenience this recall may cause you and your customers. Your understanding and support in carrying out this campaign is greatly appreciated.
Protect What is Important to You
Mazda North American Operations
Sincerely,
Hideo Takashima
Director, Technical Services Division
Mazda North American Operations
---
REPAIR PROCEDURE
Recall Campaign 3919G
2019 Mazda3 – Interior Rearview Mirror Can Suddenly Detach – Safety Recall 3919G
A. VEHICLE INSPECTION PROCEDURE
Verify that the vehicle is within the following ranges:
| | | |
| --- | --- | --- |
| Model | Subject VIN range | Subject production date range |
| 2019 Mazda3 built at MC | JM1 BP**** K1 100042 – 130354 | From September 25, 2018 through March 20, 2019 |
| 2019 Mazda3 built at MMVO | 3MZ BP**** KM 100048 – 114690 | From January 15, 2019 through June 24, 2019 |
The asterisk symbol "*" can be any letter or number.
If the vehicle is within the above ranges, proceed to Repair Procedure B below
If the vehicle is not within the above ranges, return vehicle to the customer or inventory.
Perform a Warranty Vehicle Inquiry using your eMDCS System and inspect vehicle for Campaign Label Recall 3919G attached to the vehicle's hood or bulkhead. Refer to eMDCS System – Warranty Vehicle Inquiry Results table below.
NOTE:  Be sure to verify Recall number as the vehicle may have multiple Recall labels.
eMDCS System – Warranty Vehicle Inquiry Results:
If eMDCS displays:
Campaign Label is:
Action to perform:
RECALL 3919G OPEN
Present
Email Dealer Recall Help or Contact Warranty Hotline at (877) 727-6626 option 3 to update vehicle history.
Not present
Proceed to "B. REPAIR PROCEDURE".
RECALL 3919G CLOSED
Present
Return vehicle to inventory or customer.
Not present
Proceed to "C. CAMPAIGN LABEL INSTALLATION".
RECALL 3919G IS NOT PRESENT
Does not apply
Recall does not apply to this vehicle. Return vehicle to inventory or customer.
B. REPAIR PROCEDURE:
Removal of the inner mirror – please watch video of mirror removal on MGSS under 3919G.
NOTE: If the vehicle has a Homelink mirror installed, please note on the Repair Order that a Homelink mirror is installed and move to Procedure C below to install the campaign label.  The inspection of a vehicle with a Homelink mirror can be claimed to close the recall.
Hit the sensor cover at center line lightly and remove the sensor cover when the gap is visible. Slide the sensor cover in parallel and remove.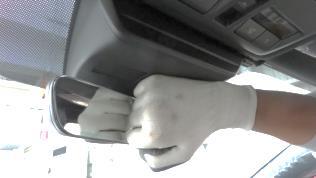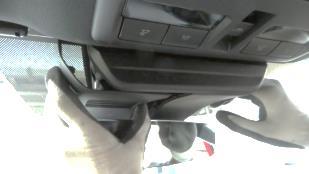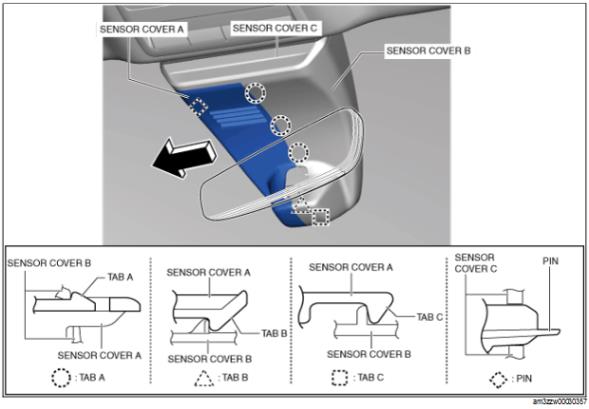 Confirm all fitting tabs of the sensor cover are secure.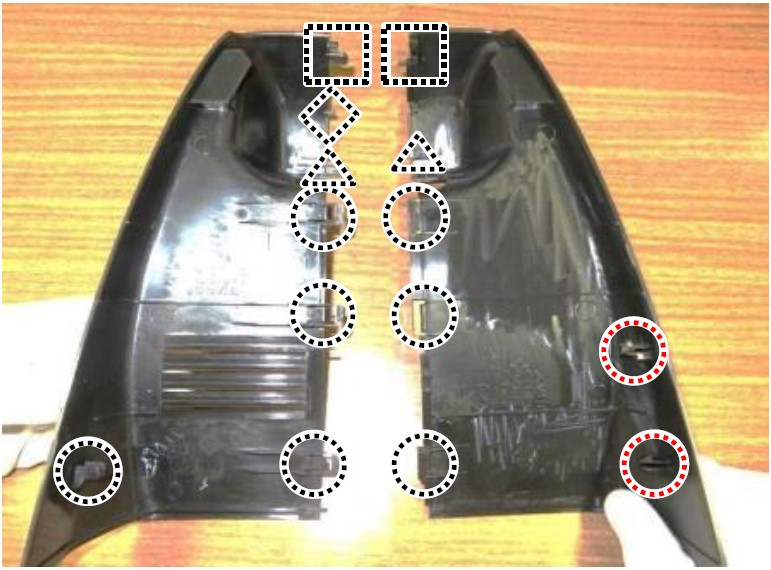 Protect the indicator with masking tape to avoid possible scratches. It is possible to hit the indicator when removing the inner mirror.

Note: Hold at inner mirror arm and turn whole inner mirror for easy removal. (shown the picture below.)

Confirm the mirror base is secure.
Caution: If there are chips at any of three mirror base slit (red circle), the front windshield must be replaced. (Mirror base is not replaced as a single part.)
| | |
| --- | --- |
| OK (No more chipping) | Not OK (chipping) |
| | |
Installation of the inner mirror.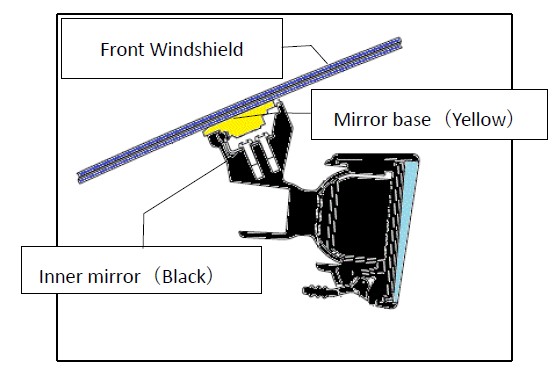 Note: Align the claws of the inner mirror (square in the figure below) with the long three sides (blue) of the six sides of the inner mirror base hexagon. Rotate about 60 degree and fit the claws of the inner mirror with the three short sides (red) of the slit.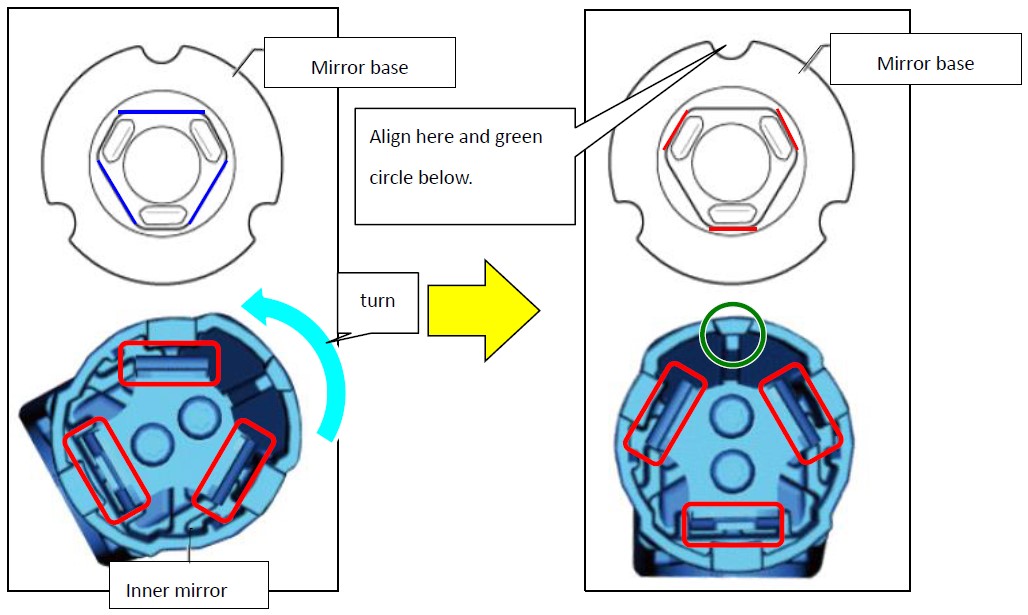 Point: After aligning the projection with the notch, turn it along the inner mirror base for easy installation.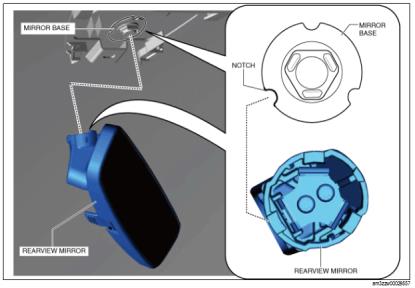 Make sure the inner mirror is facing the front and boss is in the red circle position.

Make sure there is no freeplay on the mirror base mounting part.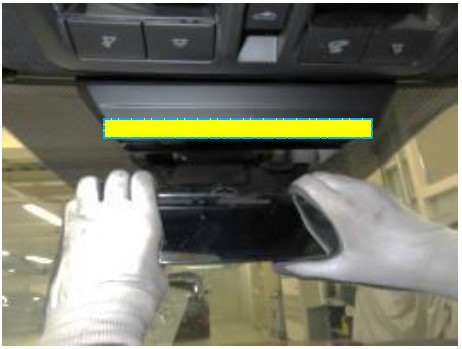 Remove the protective masking tape on the indicator.
After making sure the tabs are not damaged on the center cover, re-install these covers.
Caution : If the cover is scratched or damaged, replace them.

Verification
No clearance between center covers on installation.
C. CAMPAIGN LABEL INSTALLATION:
Fill out a blue "Campaign Label" (9999-95-065A-06) with Campaign No: "3919G", your dealer code, today's date.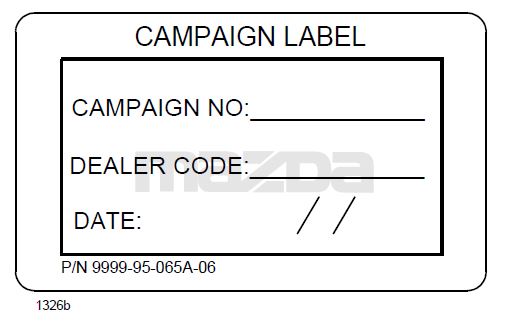 Affix it to the hood or bulkhead as shown: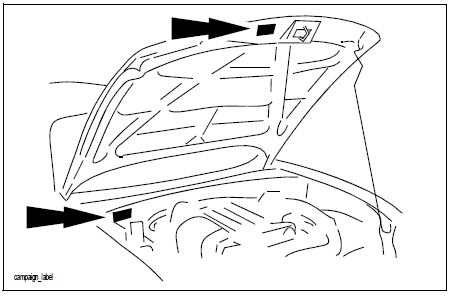 Return the vehicle to customer.
---
1 Affected Product
Vehicle
---
5 Associated Documents
Recall 573 Report – AMENDMENT 1
RCLRPT-19V558-8691.PDF 214.467KB
---
Defect Notice 573 Report
RCLRPT-19V558-9013.PDF 214.4KB
---
Manufacturer Notices(to Dealers,etc) – Dealer Email August 1, 2019
RCMN-19V558-9434.pdf 544.205KB
---
Remedy Instructions and TSB
RCRIT-19V558-8611.pdf 622.246KB
---
Recall Acknowledgement
RCAK-19V558-3242.pdf 290.675KB
---
Recalls Documents
https://www-odi.nhtsa.dot.gov/acms/cs/documentList.xhtml?docId=19V558&docType=RCL
---
Bestseller No. 1
Anti-glare Rear View Mirror, Universal Car Truck Interior RearView Mirror ANTI GLARE Suction Cup Blue Mirror
SUPERIOR MIRROR QUALITY - Perfect Image without distortion. High toughness glass fiber composites. Anti-glare blue mirror provides clear view through day and night!
VIEW MORE - 360 Degree Angle Adjustable. Wider Mirror Reflection Area due to shorter supporting arm
EASY-TO-USE: Easily attach to any clean , smooth , non-porous surface to provide safety and situational awareness. The magic magic sucker can be washed, and after sticking the dust, it can be restored after washing with water and drying.
UNIVERSAL FITMENT: Universal for most cars and boats to provide drivers additional rearview support; eliminate rearview blind spot for saftey driving
STAY FIRM ON THE WINDSHIED - Shakeproof with 10kg Suction Power
Sale
Bestseller No. 2
Bestseller No. 3
ELUTO Rear View Mirror Anti-Glare Rearview Mirror Universal Interior Rearview Mirror with Suction Cup for Car Truck SUV 9.5'' (240mm)
STRONG STICKINESS SUCTION - TED Adhensive suction cup and Shakeproof with 10kg Suction Power to keep firm on windshield.
HD Anti-glare Function - Providing a clearly view as well as superior mirror quality through day and night benefitting from high toughness glass fiber composites material.
BROADER VIEW DESIGN - 360 Degree Angle Adjustable Design promotes flexibility of usage. Perfect visibility and wider view experience dued to shorter supporting arm. Bracket-rotated Adjustment and Screw Control Design to prevent shaking from windshield.
EASY INSTALLATION & MAINTENANCE - Easily attached on any clean , smooth and non-porous surface to improve safety awareness. Easily washed even if there is dust stuck, just washing with water and stand still for drying, finally restored.
UNIWERSAL APPLICATIOON - Suitable for most transport such as cars, vehicles, SUV, Trucks and boats to broaden visibility and eliminate blind spots for a safer driving.
Bestseller No. 4
Bestseller No. 5
Yoolight Car Rearview Mirrors, Car Universal 12'' Interior Clip On Panoramic Rear View Mirror Wide Angle Rear View Mirror (12" L x 2.8" H)
Yoolight Car rearview mirror can provide more wide angle vision than original mirror , do not have trouble seeing the panoramic of the car and minimize your blind spot
Yoolight rearview mirror are made of especial glass, which could make clear image, no double reflections to ensure your safety when driving .
With a adjustable buckle, just one-touch, you could clip on the original rear view mirror , easy to install and disassemble.
Yoolight car rearview mirror with the size 12x 2.8inch(300 x 72 mm) design, could fit for the 55-75 mm original rear view mirror, widely used for most car, truck, SUV and so on .
If you meet any question about this item, please feel free to contact with us ,we could help you deal with immediately .
Bestseller No. 6
Sale
Bestseller No. 7
Rear View Mirror, Universal Car Truck Mirror Interior RearView Mirror Suction Cup (Width 24.5cm/9.6in)
PREMIUM QUALITY: Clearer mirror view without distortion and strong suction fitting to ensure firm adhesion to the windshield window and supporting surface.
UNIVERSAL FITMENT: Universal for most cars and boats to provide drivers additional rearview support; eliminate rearview blind spot for saftey driving
EASY-TO-USE: Easily attach to any clean , smooth , non-porous surface to provide safety and situational awareness. The magic magic sucker can be washed, and after sticking the dust, it can be restored after washing with water and drying.
STAY FIRM ON THE WINDSHIED - Shakeproof with 10kg Suction Power. NOTE: for better suction result, slightly moisture suction cup before post it to the surface you want.
VIEW MORE - 360 Degree Angle Adjustable. Wider Mirror Reflection Area due to shorter supporting arm
Bestseller No. 8
Bestseller No. 9
Bestseller No. 10
Last update on 2020-05-26 / Affiliate links / Images from Amazon Product Advertising API
Last update on 2020-05-26 / Affiliate links / Images from Amazon Product Advertising API