MULTI-MODEL – EXCESSIVE CONDENSATION OR WATER WITHIN THE HEADLAMP ASSEMBLY – CAUTION
APPLICABLE MODEL(S)/VINS
DESCRIPTION
When dealing with customer complaints of excessive condensation and/or water within the headlamp unit, first determine if all the bulb sockets are present and correctly installed. In most cases you will find that the Bulb Seal No. 1 (A) or HID Bulb Seal No. 1 (B) and Bulb Seal No. 2 (C) socket covers have not been correctly installed or are missing due to improper prior repairs (i.e., customer replacing the headlamp bulbs or body shop not transferring them when replacing the headlamp unit(s) due to a collision). Any damage caused by missing socket covers, HID module seal (D), or missing bumper brackets (E) is not covered by warranty policy.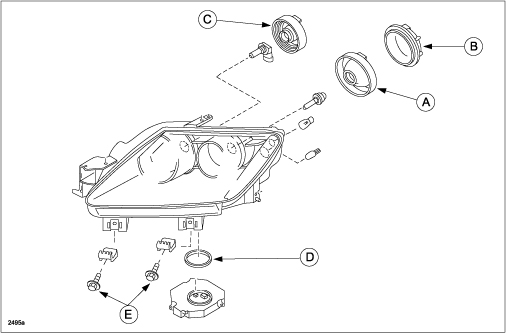 ---
09-049/14
11/24/2014
https://www.nhtsa.gov/recalls?nhtsaId=10098885
https://static.nhtsa.gov/odi/tsbs/2014/SB-10098885-2532.pdf
---
Sale
Bestseller No. 1
Sale
Bestseller No. 2
Sale
Bestseller No. 3
Meguiar's G2970 Two Step Headlight Restore 2Step, 4. Fluid_Ounces
RESTORE HEADLIGHT CLARITY: Quickly and easily restores clarity to oxidized and yellowed headlights
YEARLONG PROTECTION: Revolutionary coating protects against yellowing and re-oxidation for up to 12 months
ONLY TWO STEPS: Simply apply the included cleaning solution, then the headlight coating - no drill required. Makes removing oxidation, cloudiness and yellowing fast and easy while providing brilliant, lasting clarity
BETTER VISIBILITY: Enhances visibility and safety for night driving
NO DRILL REQUIRED: Delivers crystal clear finish without sanding or the need for a drill
Sale
Bestseller No. 4
Mothers 07251 NuLens Headlight Renewal Kit
Designed to quickly and safely restore, maintain and protect all types of smooth, shiny plastic and acrylic headlights to crystal clarity
It easily cleans away yellowing and stains, and even buffs out unsightly hairline scratches, smudges, and flaws in a single step
The included PowerPlastic 4Lights polish restores crystal clarity, leaving a tough protective, oxidation-inhibiting polymer layer to guard against future degradation from the elements
Includes: 3-inch Backing Plate, PowerBall 4Lights Polishing Tool, Restoration Discs, 8 oz. Polish
Sale
Bestseller No. 5
Sale
Bestseller No. 6
Bestseller No. 7
Wipe New HDL6PCMTRRT Headlight Restore Kit
Headlights guaranteed to pass inspection for the lifetime of your vehicle
Easy to apply, lasts through hundreds of car washes
Apply once and lasts for years while saving time and money
Clear your lens in just seconds
Made in the USA
Sale
Bestseller No. 8
Bestseller No. 9
Bestseller No. 10
SYLVANIA - Headlight Restoration UV Block Clear Coat - Most Important Step to Restore Damaged Headlights, Surface Activator, UV Protection for Clearer Headlights - 1 Fl Oz
MOST IMPORTANT STEP IN HEADLIGHT RESTORATION: Regardless of what product or brand you use to restor your headlights, Sylvania's UV Block Clear Coat is the difference that will keep your headlight looking clear and bright for years to come.
BENEFITS OF USING UV BLOCK CLEAR COAT: Specially formulated UV blockers help probide UV Block Clear Coat sealing power that protects your headlights once restored, keeping the lenses clear for long lasting results.
EASY TO USE, LONG LASTING PROTECTION: The UV Block Clear Coat is easy to use and provides a UV resistant barrier that protects against hazing and yellowing of the headlights.
UV CLEAR COAT KIT CONTENTS: 1 oz of UV blocking Clear Coat, 1 oz of Surface Activator, 1 blue lint-free UV Clear Coat applicator cloth and instructions.
THE SYLVANIA STANDARD OF QUALITY: With over 100+ years in business, Sylvania is the world leader in automotive lighting for Original Equipment Manufacturers (OEMs) and the aftermarket.
Last update on 2019-08-08 / Affiliate links / Images from Amazon Product Advertising API
Last update on 2019-08-08 / Affiliate links / Images from Amazon Product Advertising API