2014-2015 MAZDA3 – SQUEAK NOISE FROM WINDSHIELD WIPER LINK
APPLICABLE MODEL(S)/VINS
2014-15 Mazda3 vehicles with VINs lower than JM1BM******227327 (produced before August 1, 2014)
2014-15 Mazda3 vehicles with VINs lower than 3MZBM******194031 (produced before February 11, 2015)
Squeaking noise from the windshield wiper link when operating the wipers.
This noise may be caused by rust on the sliding parts from water entry through the pivot (A). To prevent water entry, the pivot cover (B) has been enlarged and an O-ring has been added to the pivot.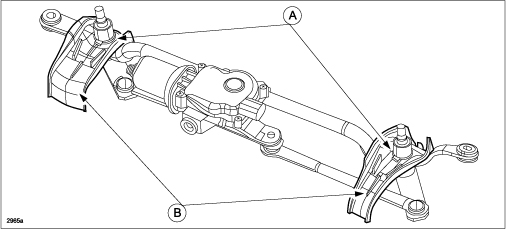 REPAIR PROCEDURE
If noise occurs when operating the wipers, replace the windshield wiper link assembly with a modified one. Refer to the instructions on MS3 online or the Workshop Manual.
PART(S) INFORMATION
| Part Number | Description | Qty. | Notes |
| --- | --- | --- | --- |
| BHS2-67-360A | Windshield Wiper Link Assembly | 1 | For VINs starting with JM1 |
| BJS7-67-37XA | Windshield Wiper Link Assembly | 1 | For VINs starting with 3MZ |
Price Disclaimer