Subject:

WHITE MILKY STAINS ON INNER SURFACE OF HEADLIGHT LENS

Bulletin No: 09-014/16
Last Issued: 03/14/2016
BULLETIN NOTE
This bulletin supersedes the previously issued bulletin(s) listed below. The changes are noted in Red beside the change bars.
| | |
| --- | --- |
| Previous TSBs: | Date(s) Issued: |
| 09-014/16 | 02/26/16 |
APPLICABLE MODEL(S)/VINS
2013-2016 CX-5 vehicles with VINs between JM3KE****** 486578 – 745219 (produced between May 28, 2014 and Nov. 23, 2015)
DESCRIPTION
Some vehicles equipped with LED or Discharge type headlights may exhibit white milky stains on the inner surface of the headlight lens. Some customers may complain of the poor appearance.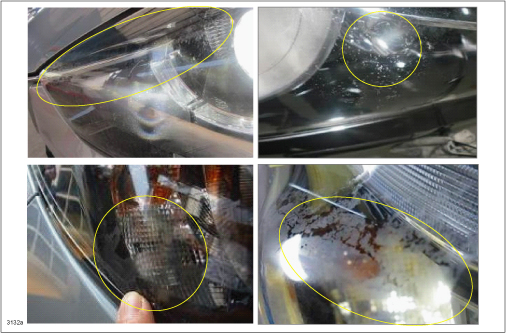 This concern is caused by gas that emits from a gasket in the lamp unit. The gas adheres to the inner surface of the headlight lens and reacts with the anti-clouding coating and moisture in the air to create white milky stains.
The gasket material has been improved to eliminate this concern.
Customers having this concern should have their vehicle repaired using the following repair procedure.
REPAIR PROCEDURE
Verify the customer concern.
NOTE: Foggy lenses due to condensation is a natural phenomenon. Do not replace the head lamp unit(s) for foggy lenses.
Replace the affected head lamp unit(s) with modified parts according to the instructions on MS3 online or the Workshop Manual (section 09-18 FRONT COMBINATION LIGHT REMOVAL/INSTALLATION).
NOTE: Discharge Headlights Only: Be sure to replace the seal (shown below) with a new part.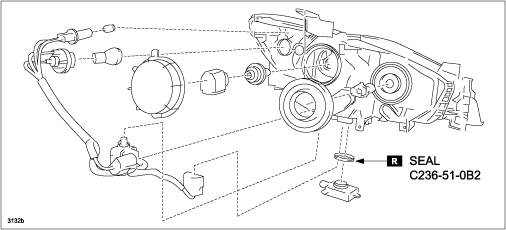 Verify the repair.
PART(S) INFORMATION
Description
Qty.
Headlight Type
Part Number
HEAD LAMP UNIT,

LH

1
LED
KA0G-51-031D
HEAD LAMP UNIT,

RH

1
LED
KA0G-51-041D
HEAD LAMP UNIT,

LH

1
Discharge
KR22-51-031A
HEAD LAMP UNIT,

RH

1
Discharge
KR22-51-041A
SEAL
1 or 2
For Discharge Headlights only
C236-51-0B2
NOTE: Check the GEPC for the correct part number for subject vehicle.
WARRANTY INFORMATION
NOTE:
This warranty information applies only to verified customer complaints on vehicles eligible for warranty repair.
This repair will be covered under Mazda's New Vehicle Limited Warranty term.
Additional diagnostic time cannot be claimed for this repair.
With LED Headlights
With Discharge Headlights
Warranty Type
A
A
Symptom Code
98
98
Damage Code
9W
9W
Part Number Main Cause
KA0G-51-031D or KA0G-51-041D
KR22-51-031A or KR22-51-041A
Quantity
1
1
Operation Number / Labor Hours:
XXLACARX / 0.7 Hrs. (Right Side)
XXLACBRX / 0.7 Hrs. (Left Side)
XXLACZRX / 0.9 Hrs. (Both Sides)
XXLADARX / 0.7 Hrs. (Right Side)
XXLADBRX / 0.7 Hrs. (Left Side)
XXLADZRX / 1.0 Hrs. (Both Sides)
NOTE: If both headlights require replacement, claim the other headlight as a related part.
---
09-014/16
03/14/2016
https://www.nhtsa.gov/recalls?nhtsaId=10101083
https://www.nhtsa.gov/recalls?nhtsaId=10090823
https://static.nhtsa.gov/odi/tsbs/2016/SB-10101083-2532.pdf
---
09-014/16
02/26/2016
https://www.nhtsa.gov/recalls?nhtsaId=10076682
https://static.nhtsa.gov/odi/tsbs/2016/SB-10076682-5448.pdf
---
Bestseller No. 1
Sale
Bestseller No. 2
Mothers 07251 NuLens Headlight Renewal Kit
Designed to quickly and safely restore, maintain and protect all types of smooth, shiny plastic and acrylic headlights to crystal clarity
It easily cleans away yellowing and stains, and even buffs out unsightly hairline scratches, smudges, and flaws in a single step
The included PowerPlastic 4Lights polish restores crystal clarity, leaving a tough protective, oxidation-inhibiting polymer layer to guard against future degradation from the elements
Includes: 3-inch Backing Plate, PowerBall 4Lights Polishing Tool, Restoration Discs, 8 oz. Polish
Bestseller No. 3
SYLVANIA - Headlight Restoration Kit - 3 Easy Steps to Restore Sun Damaged Headlights With Exclusive UV Block Clear Coat, Light Output and Beam Pattern Restored, Long Lasting Protection
RESTORES HEADLIGHT TO A LIKE-NEW APPEARANCE & REMOVES HAZE: Headlight lenses on your vehicle can become yellow, dull, and hazy from the sun. Our Headlight Restoration Kit fully removes haze and corrosion and restores the clarity and shine you need to see downroad at night.
RESTORES HEADLIGHT LIGHT OUTPUT: Restores original clarity and vision to sun damanged plastic headlight lenses. The lenses will be clearer, the headlight will shine brighter, and the road ahead will be better illuminated.
3 EASY STEPS TO RESTORE LONG LASTING UV PROTECTION TO YOUR HEADLIGHTS: Step 1 - Surface Activator, Proprietary activator softens plastic, making it easire to sand smooth. Step 2 - Sand and Polish. Step 3 - Finish and seal with UV Block Clear Coat applicator.
LIFETIME WARRANTY: The components of this kit are good for two headlight assemblies. Once installed properly, the performance of the Sylvania Headlight Restoration Kit is guaranteed by a *Lifetime Warranty for as long as you own your car.
THE SYLVANIA STANDARD OF QUALITY: With over 100+ years in business, Sylvania is the world leader in automotive lighting for Original Equipment Manufacturers (OEMs) and the aftermarket.
Bestseller No. 4
CERAKOTE Ceramic Headlight Restoration Kit
- GUARANTEED TO LAST AS LONG AS YOU OWN YOUR VEHICLE! - You read it right! We're so confident in our CERAMIC coating that we'll stand behind our limited lifetime warranty that it will last as long as you own your vehicle, or we'll cover the next kit for free. Our chemists developed this kit IN HOUSE at Cerakote HQ. We aren't re-bottling another company's product. This is a CERAMIC coating that chemically bonds to your headlights and provides UV protection for as long as you'll own your vehicle.
- NO POWER TOOLS REQUIRED - Everything is included in your kit. There are no tools required that could potentially damage your headlights or paint. There's nothing worse than having to call your crazy uncle you haven't seen since the holidays because he's got the power tools you need. After he hollers "STAND CLEAR!!", fires up his wheezing disk sander, runs it off of your headlight and across the paint on your hood.. It's too late. DON'T BUY A KIT THAT REQUIRES TOOLS!
- RESTORES AND PROTECTS FROM UV! - This isn't the classic bait-and-switch you're used to. We won't sell you something that needs to be purchased again in a few months. Our CERAMIC coating provides a layer of UV protection that is guaranteed to stand the test of time. We believe in providing our customers the best products on earth, the first time. After all, we're the chemists that have been providing world-class ceramic coatings to endless industries for DECADES. It's what we do.
- 3 EASY STEPS! - Cerakote's Headlight Restoration Kit is a simple, 30 minute process. Step 1: You'll be mesmerized by our Oxidation Remover as you wipe away the hazy surface oxidation. Step 2: Use our ergonomic surface prep pad to remove the deep oxidation and prep your headlight for the CERAMIC clear coating. Step 3: Cerakote's pre-moistened Ceramic Headlight Restoration Wipes restore your headlights to a like-new condition that is backed by our limited lifetime warranty.
- START-TO-FINISH. WE ARE THE CREATORS - We are chemists. To the core. We invent things and make them right here at our headquarters in beautiful Southern Oregon. Every part of this headlight restoration kit was done at our campus. From formula development to production, packaging design, all the way to shipping. We've been restoring and protecting products all over the world for decades with our CERAMIC coatings and we're proud to put our name on this revolutionary kit. TRUST THE PROS!!
Bestseller No. 5
Bestseller No. 6
Bestseller No. 7
Rust-Oleum HDLCAL Wipe New Headlight Restore, 0.5 FL OZ
Simple to use; clean, wet sand and polish using included polishing pad and apply Wipe New to restore headlights
Nano-polymer formula and application procedure removes oxidation from headlight lenses and protects them for years
Works fast and dries in one hour--wait 24 hours before exposing to moisture
Long lasting formula provides continued protection from UV and liquids for years
Instantly restores headlight lenses providing a crystal clear finish
Bestseller No. 8
Turtle Wax 53435 Speed Headlight Lens Restorer Kit
Restores and improves clarity on yellowed, oxidized or sun damaged headlights and taillights
Provides professional results in four easy steps with long lasting results
Lens Repair & Renew Clarifying Compound is formulated to remove scratches, swirl marks, and severe oxidation better than ordinary compounds
Ceramic Acrylic Resin wipes seals to protect to prolong plastic clarity for over a year
Kit Components – (1) precision polishing pad, (1) headlight lens repair & renew compound 2 fl. oz. , (4) ceramic acrylic wipes, (1) pair of protective plastic gloves
Bestseller No. 9
Bestseller No. 10
OPT7 Headlight Restoration Kit w/excl Ceramic Nu Coating – Professional Detailers Grade –Lens Polisher Drill Set.
EXCLUSIVE CERAMIC NU COATING- The only restoration kit that uses the latest in coating & protection technology. Our Ceramic Coating, traditionally used for high end detailing, is engineered specifically for Headlight Lens Restoration.
HEADLIGHT MAKEOVER. NOT DO-OVER- There is a reason we provide a complete and thorough 5 stage process to correctly restore and protect your headlights. It's because anything less is a shortcut that results in short term or poor results.
THOROUGH KIT INCLUDES- 2 step Advent sanding disks, 2 step polishing pad & compound, Ceramic Nu- Sealer Coating, prep pads, sanding drill bit (Drill not included).
THE PERFECT COMPLEMENT with any OPT7 LED headlight or HID Kit upgrade to completely refinish and modernize your headlights.
10+ YEARS IN AUTOMOTIVE LIGHTING- We know lighting.
Last update on 2020-05-26 / Affiliate links / Images from Amazon Product Advertising API
Last update on 2020-05-26 / Affiliate links / Images from Amazon Product Advertising API